Dog Star (Paperback)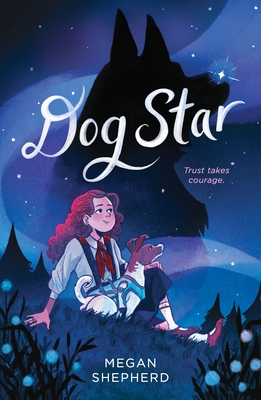 Description
---
Based on an incredible true story, Carnegie Medal nominee and New York Times–bestselling author Megan Shepherd crafts a harrowing, propulsive girl-and-her-dog tale that will linger in your heart long after the last page.

Laika is a Cold Dog, a stray pup fighting for her life on the streets of Moscow. Then, one winter night, she is plucked from her alley to become a starflyer, a dog trained to travel into space. Distrustful of people, Laika tries to do everything she can to escape. That is, until she meets Nina.

Nina is a Cold Girl, lonely and full of questions. Her best friend has moved to America in a rush, leaving Nina to face the school bullies all by herself. Plus, her father's work as a scientist in the Soviet Space Program grows more secretive by the day.

When the two meet in her father's laboratory, their growing bond slowly warms the chill that has settled in each other's hearts. As the Space Race between the United States and the Soviet Union grows fierce, Laika and Nina uncover shocking secrets and hard truths that will test their friendship. How will they find the courage to chase their dreams all the way to the stars?
About the Author
---
Megan Shepherd is a New York Times-bestselling and Carnegie Medal-nominated author. She grew up in her family's independent bookstore in the Blue Ridge Mountains and is the author of many acclaimed middle grade and young adult novels including The Madman's Daughter series, The Cage series, The Secret Horses of Briar Hill, and the Grim Lovelies series. She now lives and writes on a haunted 125-year-old farm outside Asheville, North Carolina, with her husband and children, two cats, chickens, bees, and an especially scruffy dog.
Praise For…
---
A NCSS Notable Book

"Shepherd's tautly paced historical novel portrays the friendship between a stray dog and an empathic 12-year-old, both in the orbit of the Starflyer mission to launch animals into space. . . . [S]ympathetic characters deliver a tense and compelling adventure that stays true to historical events." --Publishers Weekly

"A poignant story that accessibly illuminates a milestone in space exploration history." --Kirkus Reviews

"Recommended for its insight into a pivotal moment in history and the touching relationship between a girl and her dog." — Beth Rosania