The Passenger: A Novel (Paperback)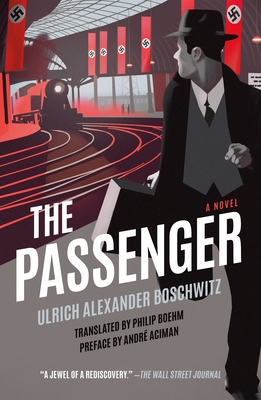 $16.99

We can order this book for you! This will delay shipping your book by 2 - 7 days.
Description
---
A SUNDAY TIMES BESTSELLER

"A jewel of a rediscovery . . . . A riveting, noirish, intensely filmic portrait of an ambivalent fugitive, cornered but not captured, safest when in motion, at greatest risk when forced to rest."
—The Wall Street Journal

Berlin, November 1938. Jewish shops have been ransacked and looted, synagogues destroyed. As storm troopers pound on his door, Otto Silbermann, a respected businessman, is forced to sneak out the back of his own home. Turned away from establishments he had long patronized, and fearful of being exposed as a Jew despite his Aryan looks, he boards a train. And then another. And another . . . until his flight becomes a frantic odyssey across Germany, as he searches first for information, then for help, and finally for escape. Taut, immediate, infused with acerbic Kafkaesque humor, The Passenger is an indelible portrait of a man and a society careening out of control.

Twenty-three-year-old Ulrich Boschwitz wrote The Passenger at breakneck speed in 1938, fresh in the wake of the Kristallnacht pogroms, and his prose flies at the same pace. Long considered lost, the original manuscript was only recently discovered in the German archives and has now been published throughout the world and universally hailed as a masterpiece.
About the Author
---
Ulrich Alexander Boschwitz was born in Berlin in 1915. He left Germany in 1935 for Oslo, Norway, studied at the Sorbonne in Paris, and wrote two novels, including The Passenger. Boschwitz eventually settled in England in 1939, although he was interned as a German "enemy alien" after war broke out—despite his Jewish background—and subsequently shipped to Australia. In 1942, Boschwitz was allowed to return to England, but his ship was torpedoed by a German submarine and he was killed along with 362 other passengers. He was twenty-seven years old.

Philip Boehm has translated more than thirty novels and plays by German and Polish writers, including Herta Müller, Franz Kafka, and Hanna Krall. For these translations he has received numerous awards, including NEA and Guggenheim fellowships and most recently the Helen and Kurt Wolff Translator's Prize. He also works as a theater director and playwright.

André Aciman is the New York Times bestselling author of Call Me By Your Name, Out of Egypt, Eight White Nights, False Papers, Alibis, Harvard Square, Enigma Variations, and Find Me. He's the editor of The Proust Project and teaches comparative literature at the Graduate Center of the City University of New York. He lives with his wife in Manhattan.
Praise For…
---
"Uncannily prescient . . . The Passenger plunges the reader into the gloom of Nazi Germany as the darkness was descending. It deserved to be read when it was written. It certainly deserves to be read now."
—The Guardian

"A jewel of a rediscovery . . . superbly translated by Philip Boehm . . . The Passenger is a riveting, noirish, intensely filmic portrait of an ambivalent fugitive, cornered but not captured, safest when in motion, at greatest risk when forced to rest."
—Wall Street Journal

"The Passenger reads as though a painting by the German anti-Nazi artist George Grosz has been turned into words, the text almost vibrating with fury at the lies, theft, murder and betrayal. It is also a highly accomplished work, filled with vivid characterisation, sharp dialogue and intensely observed scenes . . . This English edition, skillfully translated by Philip Boehm, is a fitting memorial to a writer of great insight and talent—and an important historical work that vividly recreates the terror experienced by Jews in 1930s Germany."
—Financial Times

"Stunning . . . clairvoyant . . . Boschwitz's novel pulsates with fine, understated descriptions . . . One comes away marveling not only at Boschwitz's craftsmanship but at what can only be called his human spirit . . . The Passenger resembles a message in a bottle: cautionary, despairing, a literary warning."
—Ruth Margalit, The New York Review of Books

"Powerful . . . A prophetic and chilling portrait of the terror of life under the Nazi regime . . . compared to masterpieces by Franz Kafka and Hans Fallada."
—The Telegraph

"A major lit­er­ary event . . . Boschwitz's own sto­ry and dev­as­tat­ing nov­el are uncan­ny prophe­cies of our own time marked by the degra­da­tion of human­i­ty in flight, search­ing for a place to call home."
—Jewish Book Council

"A global sensation . . . a literary time capsule . . . Written in 1938, The Passenger arrives now as a remedy for the historical amnesia that encourages repeated misfortune."
—Forward

"The Passenger is so viscerally absorbing that as I turned each page I shuddered, as if from the same chill breeze felt by the novel's main character . . . in his desperate attempt to flee Germany. Indeed, the gem-like precision of Boschwitz's writing evokes, as few other books have, the anxiety and terror . . . in the Third Reich. . . An unnerving, no-holds-barred account of the Nazi regime's escalating war against the Jews."
—Mosaic

"Vibrating with rage at the murder and betrayal of German Jewry . . . this is an enthralling, disturbing but also nuanced story that takes the reader into the heart of the Third Reich's terror state."
—Financial Times

"With The Passenger alone, Ulrich Alexander Boschwitz claims a place alongside the likes of Thomas Mann, Heinrich Böll and Hans Fallada as one of 20th century Germany's greatest novelists."
—New European

"Thriller-tense . . . Like Hans Fallada's Alone in Berlin, The Passenger is a rediscovered book, and not only shares its menacing claustrophobia but more than matches it for potency and profundity."
—New Statesman

"Boschwitz is remarkable not only for his prescience . . . but also for his rare insight and minutely observed depictions of characters from every strata of German society. Witty at the same time that it's tragic, surreal even in its hyper-reality, The Passenger is . . . a masterpiece."
—Kirkus Reviews (starred)

"Uncanny . . . This chilling time capsule offers a startling image of fascism taken hold."
—Publishers Weekly

"Boschwitz's tale trembles with tension and eerily anticipates the central role the German train system would later play in the horrific logistics of the Holocaust. In a new translation, this remains a potent and uniquely rendered work of witness."
—Booklist

"Vivid and disquieting . . . Boschwitz relates this fight for self-preservation—not just of life, but of identity—in harrowing psychological detail . . . An arresting glimpse at a pivotal moment in history."
—Shelf Awareness

"This brilliant rediscovered thriller is up there with the best Second World War novels. The existential crisis that overtook Jews in Nazi Germany is rivetingly caught."
—The Times (London)

"A remarkable rediscovery from a long-forgotten author. For all the novel's literary deftness, it remains raw with the shock of finding that Germany is no longer home but a place of brutality and exclusion. A powerful record of Berlin's dark past, it is also an insight into the tragic condition of anyone who no longer feels safe in their own country, who cannot trust the majority, who senses the laws and social mores of an intolerant nation bending against them."
—Exberliner

"In the individual sorrow and desperation of a Jew travelling in a walled space of psychedelic horrors, Boschwitz, himself a tragic passenger, saw the larger story of the abandoned . . . The Passenger shows, as all great novels born of the pathologies of hate do, how art alone can redeem history."
—OPEN Magazine

"Eerily prescient . . . It is hard to imagine a more tragic end for an author who wrote with such adroit understanding about the mundane madness that lies behind genocidal cruelty and arbitrary classifications."
—Rain Taxi

"What a find this is, a novel that lay buried and forgotten for 80 years. It's part John Buchan, part Franz Kafka and completely gripping."
—Jonathan Freedland, Guardian journalist

"Powerful . . . extraordinary . . . The Passenger truly captures the sense of inner disintegration that happens when your civic and human rights have been stripped away and you become this other being, even to yourself."
—Lisa Appignanesi, author of Everyday Madness

"The Passenger, a newly recovered classic of the end of Jewish Europe, dramatizes the route to hell with indignant clarity, passion, intelligence, and rueful goddamned humor."
—Joshua Cohen, author of Book of Numbers

"I didn't want The Passenger to end—and not only because I was swept up in its restless, hypnotic style. This story of a Jewish man on the run has a Scheherazade-like quality: if he can stay in motion, perhaps the fate we know awaits him will somehow be deferred. A haunting and unsettling novel."
—Ruth Franklin, author of Shirley Jackson: A Rather Haunted Life

"Prophetic and flawlessly penetrating . . . Boschwitz's tale of an individual scurrying from train station to train station across a homeland that is no longer home could not have been more prescient of the terror the Nazis would unleash . . . What Boschwitz saw clearly was the utter despoliation of one's identity, of one's trust in the world, and ultimately of one's very humanity."
—from the Preface by André Aciman

"The Passenger is a miracle."
—Süddeutsche Zeitung, Germany

"A chronicle of dehumanization with the pace of a thriller, evoking Kafka's The Trial or Imre Kertész's books."
—El País, Spain

"A literary sensation."
—Haaretz, Israel

"A missing piece rediscovered, to stand next to Elie Wiesel."
—Gazzetta del Sud, Italy

"A rare novel of daily life in the early hours of catastrophe. This masterpiece is the work of a 23-year-old author."
—Marianne, France

"If you have to choose one book of twentieth-century history, read The Passenger. A truly exceptional novel."
—Mažvydas Karalius Review, Lithuania

"Important and gripping."
—Dagens Nyheter, Sweden

"If you have to choose one book of twentieth-century history, read The Passenger. A truly exceptional novel."
—Mažvydas Karalius Review, Lithuania

"A tragicomic fable of the human condition and a comedy of morals and characters of exceptional psychological acuity, The Passenger evokes the worlds of Kafka and Charlie Chaplin." —Le Figaro, France

"A masterpiece." —L'Avvenire, Italy

"An incredibly gripping rediscovery." —SRF Literaturclub, Germany