Midnight on the Marne: A Novel (Hardcover)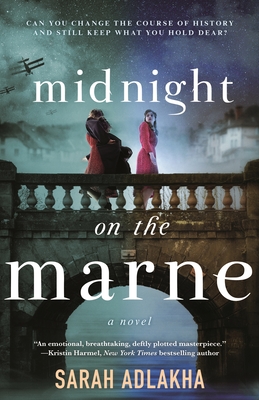 $26.99

We can order this book for you! This will delay shipping your book by 2 - 7 days.
Description
---
Set during the heroism and heartbreak of World War I, and in an occupied France in an alternative timeline, Sarah Adlakha's Midnight on the Marne explores the responsibilities love lays on us and the rippling impact of our choices.

France, 1918. Nurse Marcelle Marchand has important secrets to keep. Her role as a spy has made her both feared and revered, but it has also put her in extreme danger from the approaching German army.

American soldier George Mountcastle feels an instant connection to the young nurse. But in times of war, love must wait. Soon, George and his best friend Philip are fighting for their lives during the Second Battle of the Marne, where George prevents Philip from a daring act that might have won the battle at the cost of his own life.

On the run from a victorious Germany, George and Marcelle begin a new life with Philip and Marcelle's twin sister, Rosalie, in a brutally occupied France. Together, this self-made family navigates oppression, near starvation, and unfathomable loss, finding love and joy in unexpected moments.

Years pass, and tragedy strikes, sending George on a course that could change the past and rewrite history. Playing with time is a tricky thing. If he chooses to alter history, he will surely change his own future—and perhaps not for the better.
About the Author
---
Sarah Adlakha is a native of Chicago who now lives along the Mississippi Gulf Coast with her husband, three daughters, two horses, and one dog. She started writing fiction shortly after retiring from her psychiatry practice. Her debut novel, She Wouldn't Change a Thing, was a CNN most anticipated book of 2021. Midnight on the Marne is her second novel.
Praise For…
---
" Entrancing...Adlakha expertly lays the foundation for this sweeping, tragic romance...This wistful tale is a winner." —Publishers Weekly

"Midnight on the Marne is a well-written and well-researched story centered around one of the most crucial battles of the Great War. I thoroughly enjoyed Sarah's novel and highly recommend it, especially to those who like history with a twist." —Stephen L. Harris, author of Rock of the Marne: The American Soldiers Who Turned the Tide Against the Kaiser in World War I

"Midnight on the Marne is an extraordinary tale of "what if," which cleverly explores how both fate and personal choice can change the course of the world. One of the most unique and beautiful pieces of historical fiction I've ever read. An emotional, breathtaking, deftly plotted masterpiece." —Kristin Harmel, New York Times bestselling author of The Forest of Vanishing Stars

"A richly imagined journey into the realm of what if, Midnight on the Marne delves into an alternate world of supreme cruelty and loss, yet where love still endures and fate still entwines souls, and courage can conquer all." —Shana Abe, New York Times bestselling author of The Second Mrs. Astor

"A moving and thought-provoking story of love and loss, highlighting how a single, pivotal moment in time can affect history on a personal and a global level. Midnight on the Marne paints a searing picture of World War 1 that doesn't shy away from the brutal reality, yet overlays the grimness of war with a beautifully written love story." —Fiona Valpy, bestselling author of The Dressmaker's Gift