Girls Like Us (Paperback)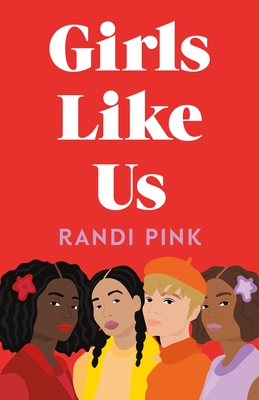 $14.99

We can order this book for you! This will delay shipping your book by 2 - 7 days.
Description
---
In Girls Like Us, Randi Pink masterfully weaves four lives into a larger story–as timely as ever–about a woman's right to choose her future.

Four teenage girls. Four different stories. What they all have in common is that they're dealing with unplanned pregnancies.

In 1972 rural Georgia, Izella is wise beyond her years, but burdened with the responsibility of her older sister, Ola, who has found out she's pregnant. Their young neighbor, Missippi, is also pregnant, but doesn't fully understand the extent of her predicament. When her father sends her to Chicago to give birth, she meets the final narrator, Susan, who is white and the daughter of an anti-choice senator.
About the Author
---
Randi Pink grew up in the South and attended a mostly white high school. She lives with her husband and their two rescue dogs in Birmingham, Alabama, where she works for a branch of National Public Radio. Into White was her fiction debut.
Praise For…
---
"With gut-wrenching, realistic scenes that illustrate their youth and innocence to scenes that show their forced growth into motherhood, readers' hearts will break for these teens who don't know what to expect when their life throws them the unexpected. An excellent fictionalized look at the reality of teen pregnancy with a historical lens. A must for all teen collections.--School Library Journal, STARRED review

"Pink offers a timely, sobering account of the reality women faced before abortion was made legal. --Publishers Weekly

"[Pink's] style is absorbing, at times balancing Southern Gothic elements ... with trenchant pith. Throughout, though, the theme is one of young women struggling to help one another in a place and time that offers them few choices... Readers will be drawn by the story and stay for the message."--Bulletin of the Center for Children's Books

"Pink weaves a heart-wrenching narrative through multiple perspectives that examines life before Roe v. Wade. The author brings to light the reality about the lack of choices that women, especially young, unwed women, had in regard to their futures. A timely, honest story about women's right to choose."--Kirkus Reviews

"Each of the four narrators provide a glimpse into what few options are left when abortion is not a choice, including backwoods abortion and its often-grave consequences. As women's right to choose is placed under scrutiny once again, these stories are a reminder of what horrors lie ahead when history repeats itself." — Booklist

Praise for Into White:

"Pink is careful to never allow the story itself to fall into agenda-pushing. Instead, she allows Toya to explore the gray areas teens negotiate as their identities shift and as their belief systems are challenged. This debut ought to inspire readers to have conversations among themselves about family, empathy, community, and respect for others." —Booklist, starred review

"Pink isn't afraid of being provocative . . . and the book dives into thorny issues of identity, self-image, and the internal effects of racism in a strikingly frank way." —Publishers Weekly