Motor City Shakedown (Detroit Mysteries #2) (Paperback)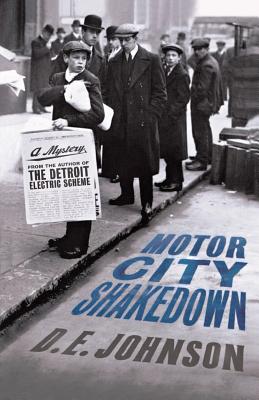 $22.99

On Our Shelves Now
(This book is non-returnable)
Other Books in Series
This is book number 2 in the Detroit Mysteries series.
Description
---
Detroit, 1911. Seven months have passed since Will Anderson's friend Wesley McRae was brutally murdered and Will and the woman he loves, Elizabeth Hume, barely escaped with their lives. Will's hand, horribly disfigured from the sulfuric acid he used to help save them, causes him constant pain, forcing him into a morphine addiction. He lives for nothing except revenge against the people who contributed to Wesley's murder—first among them crime boss Vito Adamo. When Will stumbles upon the bloody body of Adamo's driver, he knows he'll be a suspect, particularly since he was spotted outside the dead man's apartment that same night. He sets out to find the killer, and the trail leads him to a vast conspiracy in an underworld populated by gangsters, union organizers, crooked cops, and lawyers. Worse, it places him directly in the middle of Detroit's first mob war. The Teamsters want a piece of Will's father's car company, Detroit Electric, and the Gianolla gang is there to be sure they get it. To save their families, Will and his ex-fiancée Elizabeth Hume enlist the help of Detroit Police Detective Riordan, the teenage members of what will one day be known as the Purple Gang, and Vito Adamo himself. They careen from one danger to the next, surviving shootouts, kidnappings, and police brutality, while barreling toward a devastating climax readers won't soon forget.

About the Author
---
D.E. JOHNSON, a graduate of Central Michigan University, is a history buff who has been writing fiction since childhood. The early 20th century, a time of big ambitions, huge achievements, and crushing poverty, holds a special fascination for him. Johnson comes by his interest in automotive history honestly. His grandfather was the Vice President of Checker Motors, beginning work with Checker in 1924 and continuing until the 1970's. Fortunately, he doesn't come by his interest in murder the same way. He is the author of books including The Detroit Electric Scheme and Motor City Shakedown. The author is married, has three daughters, and lives near Kalamazoo, Michigan.
Praise For…
---
"...the scenes of the Motor City, riding high on the industrial wave, are extraordinarily vivid..." —The New York Times

"If Dennis Lehane was from Detroit, this is the book he'd write. The Motor City was once the most important city in the world, and D.E. Johnson does a masterful job at making that time and place come alive on the page. Motor City Shakedown is as hard and tough and downright noir as anything I've read in recent memory, but it's got a beating heart, too." —Steve Hamilton, Edgar Award-winning author of The Lock Artist

"Johnson's vibrant follow-up to The Detroit Electric Scheme delivers razor-sharp depictions of the motor city. Johnson brings the turbulence and rampant corruption of the era to life through his flawed yet tenacious lead in this worthy successor to his debut." —Publishers Weekly (starred review)

"Johnson's...clever weaving of history with intriguing characters makes for an exciting read." —Kirkus Reviews

"Violent, suspenseful, and complex, Johnson's shakedown in Detroit sucks the breath out of readers rushing to the cliff's edge with Will and Elizabeth. This gritty new series is a good match for James Ellroy and George Pelecanos fans..." —Booklist

"...Johnson's superb historical noir...is more engaging, more complex, and more violent than its predecessor." —Gumshoe Review

"This is a superb violent historical noir that brings to life the Motor City one century ago. The meet me in Detroit story line is fast-paced but it is the cast who makes for a terrific action-packed tale especially Will. With tidbits of history interwoven to anchor time and place, readers will enjoy riding the Anderson Electric Car driven by D. E. Johnson." —Midwest Books Reviews

"The surprise ending leaves you gasping and shaking your head at Johnson's masterful plotting and the menacing tension that forces otherwise good characters to behave despicably. Every bit as powerful as Patricia Highsmith's Ripley series, this gem of a debut showcases an author to watch very closely." —Booklist (starred review) on The Detroit Electric Scheme

"A empathetic hero and an abundance of interesting historical detail should keep readers engaged." —Kirkus Reviews on The Detroit Electric Scheme

"Full of nonstop action, plot twists and turns, and great insight into the early history of the United States car industry, this debut is part coming-of-age tale and part historical mystery. Essential for historical fans." —Library Journal on The Detroit Electric Scheme

"Absorbing." —The Seattle Times on The Detroit Electric Scheme

"Johnson is so skilled a writer that the race for supremacy between the manufacturers of electric and gasoline-powered automobiles is every bit as exciting as the chase through the streets of Detroit to find a ruthless killer. This remarkable debut novel will give you a thrilling ride, and leave you wanting more." —Historical Novels Review (Editor's Choice) on The Detroit Electric Scheme

"D. E. Johnson's terrific debut brilliantly captures the dangerous underbelly of 1910 Detroit's fast-growing automobile industry. A well-plotted mystery filled with memorable characters and taut suspense, The Detroit Electric Scheme makes for a compelling read." —Stefanie Pintoff, Edgar Award--winning author of In the Shadow of Gotham and A Curtain Falls, on The Detroit Electric Scheme

"Johnson makes a stunning debut, taking us to a time and place so very different from our own--and yet so very much the same." —Victoria Thompson, author of Murder on Lexington Avenue, on The Detroit Electric Scheme

"D. E. Johnson's impeccable research drives this crackling tale of murder set in Detroit's infant auto industry. . . . The Detroit Electric Scheme jolts you into a dangerous world of suspense and intrigue." —Rebecca Cantrell, award-winning author of A Trace of Smoke, on The Detroit Electric Scheme