Medicare for Dummies (Paperback)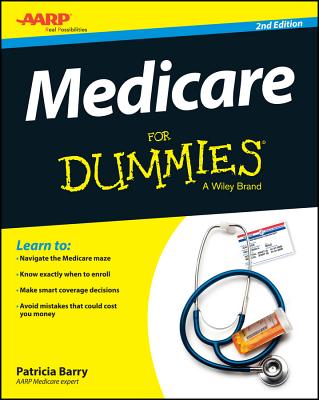 Description
---
Medicare For Dummies, 2nd Edition (9781119079422) is now being published as Medicare For Dummies, 2nd Edition (9781119293392). While this version features an older Dummies cover and design, the content is the same as the new release and should not be considered a different product.


Make your way through the Medicare maze with help from For Dummies

America's baby boomers are now turning 65 at the rate of about 10,000 a day. Yet very few have any idea about how Medicare works, when they should sign up, or how the program fits in with other health insurance they may have. Medicare For Dummies, 2nd Edition provides a detailed road map for navigating Medicare's often-baffling complexities and helps consumers avoid pitfalls that could otherwise cost them dearly.

In plain language, the new edition explains:
How to qualify for Medicare, according to your personal circumstances, including new information on the rights of people in same-sex marriages
When to sign up at the time that's right for you, to avoid lifelong late penalties
How to weigh Medicare's many options so you can be confident of making the decision that's best for you
What Medicare covers and what you pay, with up-to-date details of the costs of premiums, deductibles, and copays--and how you may be able to reduce those expenses
By conveying not only the basics but also how to troubleshoot problems and where to find assistance, Medicare For Dummies, 2nd Edition helps you to get the most out of Medicare.
About the Author
---
Patricia Barry is features editor of AARP Media as well its online "Ms. Medicare" columnist. A recognized authority on Medicare and Medicare Part D prescription drug coverage who has written extensively for consumers, Patricia has answered thousands of questions sent by Medicare beneficiaries across the nation.