Strangers Among Us: Tales of the Underdogs and Outcasts (Laksa Anthology Series: Speculative Fiction) (Paperback)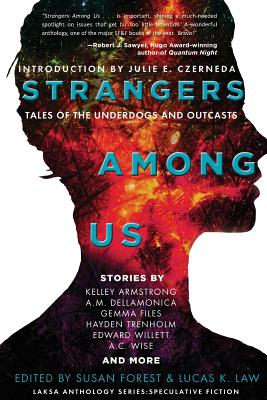 $20.64

We can order this book for you! This will delay shipping your book by 2 - 7 days.
(This book is non-returnable)
Description
---
There's a delicate balance between mental health and mental illness . . .
Who are the STRANGERS AMONG US?
We are your fathers and mothers, brothers and sisters, sons and daughters, friends and lovers. We staff your stores, cross your streets, and study in your schools, invisible among you. We are your outcasts and underdogs, and often, your unsung heroes.
Nineteen science fiction and fantasy authors tackle the division between mental health and mental illness; how the interplay between our minds' quirks and the diverse societies and cultures we live in can set us apart, or must be concealed, or become unlikely strengths.
We find troubles with Irish fay, a North Korean cosmonaut's fear of flying, an aging maid dealing with politics of revenge, a mute boy and an army of darkness, a sister reaching out at the edge of a black hole, the dog and the sleepwalker, and many more.
After all, what harm can be done...
AUTHORS: Kelley Armstrong, Suzanne Church, A.M. Dellamonica, Gemma Files, James Alan Gardner, Bev Geddes, Erika Holt, Tyler Keevil, Rich Larson, Derwin Mak, Mahtab Narsimhan, Sherry Peters, Ursula Pflug, Robert Runt , Lorina Stephens, Amanda Sun, Hayden Trenholm, Edward Willett, A.C. Wise.
Introduction by Julie E. Czerneda
Edited by Susan Forest and Lucas K. Law
Praise for Strangers Among Us
"Strangers Among Us . . . is important, shining a much-needed spotlight on issues that get far too little attention. A wonderful anthology, one of the major SF&F books of the year. Bravo "
-- Robert J. Sawyer, Hugo Award-winning author of Quantum Night
"The writing is excellent throughout, and even the few not-as-strong stories make for a good read. This is a unique collection that should attract readers of all genres.
-- Foreword Reviews
"The stories in Strangers Among Us are as varied in tone and approach as their authors. The power of the collection derives from this variety; while each story can be read in isolation, the assemblage of outsiders feels, on a whole, exultant. There is, indeed, strength in numbers, when each individual is accorded space and respect."
-- Quill & Quire
"VERDICT: Mental illness is an exciting theme for an anthology, leaving plenty of room for variety"
-- Library Journal
The anthology is recommended in Kirkus Reviews as one of "The August 2016 Science Fiction and Fantasy Books You'll Want to Read."
"Though this book has some shortcomings, readers who have mental illnesses may find themselves somewhere in these pages and as a result may no longer feel so alone or isolated."
--School Library Journal
Awards and Honorable Mentions
2017 Aurora Awards Winner (Best Related Work)
2017 Alberta Book Publishing Awards Winner (Speculative Fiction Book of the Year)
2017 Aurora Awards Winner (Best Short Fiction) and 3 other Best Short Fiction finalists
2017 Excellence in Canadian Literature of the Fantastic (Short Story category): one short story finalist
The Best American Science Fiction and Fantasy 2017 (edited by John Joseph Adams and Charles Yu): one honorable mention
The Year's Best Science Fiction: Thirty-Fourth Annual Collection (edited by Gardner Dozois): six honorable mentions
Wilde Stories 2017: The Year's Best Gay Speculative Fiction (edited by Steve Berman): one story included
2016 Foreword INDIES Awards finalist (Anthologies)