Detroitland: A Collection of Movers, Shakers, Lost Souls, and History Makers from Detroit's Past (Painted Turtle Books) (Paperback)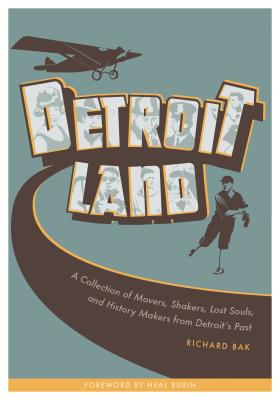 Description
---
In Detroitland: A Collection of Movers, Shakers, Lost Souls, and History Makers from Detroit's Past prolific local historian and journalist Richard Bak has assembled many of his award-winning historical features, all originally written for such periodicals as Hour Detroit, Detroit Monthly, and Michigan History and now updated and expanded for this collection. In twenty-seven chapters that cover roughly a century of Detroit's rich and colorful history, Bak relives the scandals, mysteries, catastrophes, triumphs, and celebrations that have rocked Detroit. He also introduces readers to the heroes, criminals, stars, and regular people who lived through them, or in some cases, set them in motion.

Detroitland contains the stories behind familiar names like Frank Murphy, the infamous Purple Gang, the Lone Ranger, "Potato Patch" Pingree, and Charles Lindbergh. Yet Bak also reveals lesser-known episodes in Detroit's history, like the ambitious International Exposition & Fair of 1889; the killer heat wave of 1936, with five straight days of hundred-degree temperatures; and the attempted around-the-world flight of Ed Schlee and Billy Brock in the Pride of Detroit in 1927. He introduces readers to little-known and unique Detroit characters, like the fierce Black Legion gang that was Detroit's own version of the Ku Klux Klan; Johnny Miler, the man who walloped Joe Louis in the Brown Bomber's first-ever amateur fight; patrolman Ben Turpin, the terror of Black Bottom criminals; Sophie Lyons, legendary "Queen of the Underworld" and Detroit philanthropist; and Shorty Long, Brenda Holloway, the Velvelettes, and other forgotten Motown artists of the '60s.

Told in Bak's conversational and eminently readable style, the historical essays in Detroitland will prove hard to put down for anyone interested in Detroit's history or those looking for an informative and entertaining read.
About the Author
---
Richard Bak is the author of nearly thirty books, including Boneyards: Detroit Under Ground (Wayne State University Press, 2010). He has received four ForeWord magazine Book-of-the-Year awards, a pair of regional Emmys, the Stuart and Vernice Gross Prize for Literature, and many feature-writing awards from the Society of Professional Journalists.