Poetry 180: A Turning Back to Poetry (Paperback)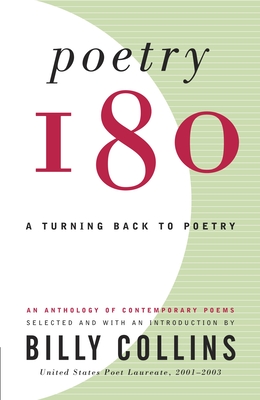 $18.00

We can order this book for you! This will delay shipping your book by 2 - 7 days.
Description
---
A dazzling new anthology of 180 contemporary poems, selected and introduced by America's Poet Laureate, Billy Collins.

Inspired by Billy Collins's poem-a-day program with the Library of Congress, Poetry 180 is the perfect anthology for readers who appreciate engaging, thoughtful poems that are an immediate pleasure.

A 180-degree turn implies a turning back—in this case, to poetry. A collection of 180 poems by the most exciting poets at work today, Poetry 180 represents the richness and diversity of the form, and is designed to beckon readers with a selection of poems that are impossible not to love at first glance. Open the anthology to any page and discover a new poem to cherish, or savor all the poems, one at a time, to feel the full measure of contemporary poetry's vibrance and abundance.

With poems by Catherine Bowman, Lucille Clifton, Billy Collins, Dana Gioia, Edward Hirsch, Galway Kinnell, Kenneth Koch, Philip Levine, Thomas Lux, William Matthews, Frances Mayes, Paul Muldoon, Naomi Shihab Nye, Sharon Olds, Katha Pollitt, Mary Jo Salter, Charles Simic, David Wojahn, Paul Zimmer, and many more.
About the Author
---
Billy Collins is the author of twelve collections of poetry including The Rain in Portugal, Aimless Love, Horoscopes for the Dead, Ballistics, The Trouble with Poetry, Nine Horses, Sailing Alone Around the Room, Questions About Angels, The Art of Drowning, and Picnic, Lightning. He is also the editor of Poetry 180: A Turning Back to Poetry, 180 More: Extraordinary Poems for Every Day, and Bright Wings: An Illustrated Anthology of Poems About Birds. A former Distinguished Professor at Lehman College of the City University of New York, Collins served as Poet Laureate of the United States from 2001 to 2003 and as New York State Poet from 2004 to 2006. In 2016 he was inducted into the American Academy of Arts and Letters. He lives in Florida with his wife Suzannah.