Love That Boy: What Two Presidents, Eight Road Trips, and My Son Taught Me About a Parent's Expectations (Paperback)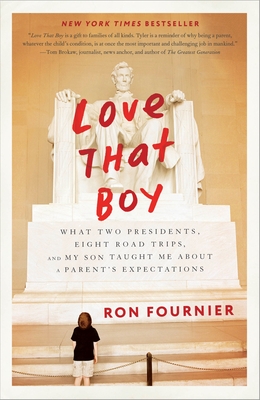 Description
---
"[A]n eloquent, brave, big-hearted book…about the timeless anxieties and emotions of parenthood, and the modern twists thereon."
—James Fallows, The Atlantic

Love That Boy is a uniquely personal story about the causes and costs of outsized parental expectations. What we want for our children—popularity, normalcy, achievement, genius—and what they truly need—grit, empathy, character—are explored by National Journal's Ron Fournier, who weaves his extraordinary journey to acceptance around the latest research on childhood development and stories of other loving-but-struggling parents.
About the Author
---
RON FOURNIER is Publisher and editor of Crain's Detroit Business, formerly the Senior Political Columnist for National Journal. He began his family and career in Arkansas, covering then Governor Bill Clinton before moving to Washington in 1993, where he covered politics and the presidency during the administrations of Clinton, George W. Bush, and Barack Obama. Fournier also served as a fellow at the Harvard Institute of Politics, where he co-wrote the New York Times bestseller Applebee's America. He holds the Society of Professional Journalists' Sigma Delta Chi Award for coverage of the 2000 elections, and he is a four-time winner of the prestigious White House Correspondents' Association Merriman Smith Memorial Award.
Praise For…
---
Winner of the Christopher Award

"Love That Boy captures both the fears and gifts of fatherhood and writes about it with honest, selfless clarity. This book is a joy to read, and should be required for all new dads…Really." 
—Jim Gaffigan, Comedian and author of Dad is Fat

 "This illuminating and touching book gives us the great gift of letting us know and appreciate the Asperger's world of young Tyler Fournier, who steals scenes from presidents while teaching his parents and all of us what is important in life. "
—David Maraniss, Pulitzer-prize winning author of Once in a Great City: A Detroit Story

"Love That Boy is so honest, raw, open and unafraid that it will surprise you with its startling honesty. It helped me understand what some of my friends are going through as parents - even those who aren't facing a major health problem but are dealing with the pressures and expectations on themselves and their children. Ron's written a book about the grit and love it takes to get through life, and he and Lori emerge from those years with a stronger family and an appreciation for living that all of us can only hope to feel some day."
—Former White House Press Secretary, Dana Perino

"Love That Boy is a gift to families of all kinds. Tyler is a reminder of why being a parent, whatever the child's condition, is at once the most important and challenging job in mankind."
—Tom Brokaw, journalist, news anchor, and author of The Greatest Generation 

"Fournier's bracingly candid and engagingly written new book, Love That Boy, represents an evolutionary leap forward in several respects — not just for autism-related books but for societal attitudes toward parenting in general…."Love That Boy" is full of feeling... The book's lesson for everyone is that sometimes we pay the truest tribute to our parents' hopes for us by defying their expectations."
—Steve Silberman, author of NeuroTribes: The Legacy of Autism and the Future of Neurodiversity, for the San Francisco Chronicle

"Ron Fournier has done a masterful job capturing the troubles and triumphs of parenting. That we – as parents and caring adults – too often superimpose our own needs and aspirations on the children we love is an important theme in this must read new book. It is a moving tale of fatherhood and of coming to terms with a more enlightened definition of perfect."
—Stephen Gray Wallace, MSEd, President and Director of the Center for Adolescent Research and Education (CARE)

"There's no magic wand that can make the challenges of parenting disappear, but having the courage to talk honestly about them may be the next best thing. This is a candid look at raising an atypical child. Ron Fournier leads by example, digging through expectations and ego to lay bare what it means to love a child unconditionally."
—Olivia Morgan, Managing Editor, The Shriver Report; Member of the Board, New England Center for Children

"Ron Fournier's deeply personal account of the frustrations and celebrations that go along with raising a special child is deeply moving. As the proud father of an Asperger's child, Ron's heartfelt work inspired me as much as I know it will inspire you."
—Joe Scarborough, NBC News senior political analyst and host of Morning Joe

"American Presidents have the honor of meeting Tyler Fournier in this lovely, intimate and inspiring book by his father, which has so much to teach all parents, sons and daughters."
—Michael Beschloss

"Ron Fournier and his son Tyler are partners on an eye-opening road trip to the crossroads of love and humanity. Along the way, they meet Bill Clinton and George Bush; but the real reward for readers from his being on the road with his dad is that we meet Tyler, a young man with Asperger's and a heart as big as the country." 
—Mike Barnicle, journalist and MSNBC news analyst

"In this aching, honest, and moving account of coming to terms with his son's Asperger diagnosis, Ron Fournier speaks to every parent who has struggled with, not only accepting but embracing, his or her child's differences.  Quite frankly, that is every one of us.  To varying degrees we all have two children, the one we hoped for and the one we have.  It is the latter that is the blessing. Love that Boy reminds us not to be preoccupied with weaknesses, but to look for strengths. Ultimately Fournier sees clearly, without projection or intruding narcissism, the gift that he has been given in his quirky, whip smart, and unforgettable son Ty. A brave and beautiful recounting."
—Madeline Levine, Ph.D. author of The Price of Privilege and Teach Your Children Well

"We love our kids fiercely – that's a given. Less obvious is knowing how to love our kids unconditionally, so they in turn can love themselves, feel a sense of belonging in the world, and get out there and thrive.  All too often we have a specific image of success in mind for our kids and do our darnedest to fashion them accordingly. This can make them feel we love not them but our image of who they could become if only they tried harder to please us. Fournier leads us step by step through his struggle to accept his third child – a son, Tyler, who was diagnosed with Asperger's at age 12 – and comes to the realization that Fournier's own ego, not Tyler's Asperger's, was the obstacle.  But this book isn't just for parents of kids with special needs – it's for any of us, all of us, who have more than occasionally needed our kid to be more athletic, articulate, artsy, amiable, able… A shining example of honesty and humility in parenting, Fournier's journey forced me to dig deep and provoked more than a few tears. Ultimately, he's drawn a road map for all parents that is as inspiring as it is necessary."
—Julie Lythcott-Haims, author of the New York Times bestseller How to Raise an Adult

"Without putting too fine a point on it, Love That Boy presents a particular story about Tyler and a universal story about parenthood--its conclusions are born out of this moving interaction between personal experience and time-honored truths. Love That Boy is a must-read for parents and the parented."
—Hank Stephenson, Shelf Awareness

"Good advice backed by research coupled with personal reflections by a father on how to let children grow up to be individuals rather than miniature versions of their parents."
—Kirkus Review

"I encourage you to read Love That Boy… [a]n eloquent, brave, big-hearted book…about the timeless anxieties and emotions of parenthood, and the modern twists thereon."
—James Fallows, The Atlantic

"[A] testament to understanding it's OK to not be perfect...Love That Boy is a labor of love that intricately and intimately intertwines our current history with raising a child with Asperger's. Read it. I promise you won't forget it anytime soon."  
—Pittsburgh Tribune Review

"[W]ith great honesty and empathy, Love That Boy recounts how Fournier set aside a heavy burden of fatherly expectations to understand and embrace his son Tyler, an extraordinary young man… It is a brief, moving reflection, not only on parenthood, but on what it means to accept another human being entirely, for who they really are, and how much harder that can be with those who are closest to us."
—Michael Gerson, Washington Post

"[A] must read for every parent and grandparent –a remarkable, moving, and perhaps life-changing read for anyone raising a child in the new millennium." 
—Hugh Hewitt

"I loved Ron Fournier's "Love That Boy," and while it's a book about parenting, its lessons are universal. At its core, this book is an honest, moving mediation on the meaning of unconditional love -- about the expectations we bring to the relationships in our lives, and how we square those expectations with the real, flesh-and-blood human beings who mean the most to us and challenge us."
—Arianna Huffington for Book of the Month Magazine

"Fournier's bracingly candid and engagingly written new book, Love That Boy, represents an evolutionary leap forward in several respects — not just for autism-related books but for societal attitudes toward parenting in general… Love That Boy is full of feeling... The book's lesson for everyone is that sometimes we pay the truest tribute to our parents' hopes for us by defying their expectations." 
—San Francisco Chronicle