Satellite Love: A Novel (Paperback)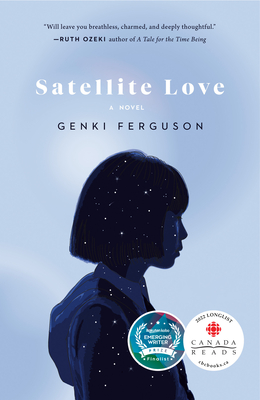 Description
---
A beautifully unconventional debut novel about a girl, a boy, and a satellite—and a bittersweet meditation on loneliness, alienation, and what it means to be human. Longlisted for Canada Reads, shortlisted for the Kobo Emerging Writer Prize for Literary Fiction and for Speculative Fiction. Named CBC Radio's Q Book Pick of the Month, a CBC Books Spring Reading List Title, a Shelf Life Books Book of the Month, a Toronto Life and Nikkei Voice summer read recommendation, one of Daily Hive's 10 Essential Reads to Celebrate Asian Canadian Writers, and one of Quill & Quire booksellers' Books of the Year.

On the eve of the new millennium, in a half-forgotten city in southern Japan, sixteen-year-old Anna Obata looks to the stars for solace. An outcast at school, and left to fend for herself and care for her increasingly senile grandfather at home, Anna copes with her loneliness by searching the night sky for answers. But everything changes the evening she falls in love with the Low-Earth Orbit satellite (LEO for short).

In a desperate act of longing and imagination, Anna calls Leo down to Earth, where he embarks on an extraordinary journey to understand his own humanity as well as the fragile mind of the young woman who conjured him into being. As Anna withdraws further into her own mysterious plans, Leo will be forced to question the limits of his devotion to his creator and the lengths he will go to protect her.

Marvellously inventive and yet grounded by a profound understanding of the human heart, Satellite Love is a brilliant and deeply moving meditation on loneliness, faith, and the yearning for meaning and connection. It is an unforgettable story about the indomitable power of the imagination and the mind's ability to heal itself, no matter the odds, no matter the cost.
About the Author
---
GENKI FERGUSON was born in New Brunswick to a family of writers and grew up in Calgary. He spent much of his childhood in the subtropical island of Kyushu, Japan, where his mother's family still resides. Fluent in Japanese and capable of making a decent sushi roll, Genki was the recipient of the 2017 Helen Pitt Award for visual arts, and recently completed a degree in Film Production while working part-time at Book Warehouse, an indie store in Vancouver.
Praise For…
---
"Satellite Love is one of those rare and affecting novels that will leave you breathless, charmed, and deeply thoughtful. A beautiful rumination on sentience, imagination, impermanence and friendship, Genki Ferguson has written a story that lives on the precarious and satisfying edge of melancholy and exuberance." — Ruth Ozeki, author A Tale for the Time Being

"A charming, strange and occasionally unsettling story about isolation, obsession, faith and connection that confronts heady questions about consciousness and what it means to be a fully aware, sentient being. . . . An impressively assured debut." — Calgary Herald
 
"A beautiful debut novel. . . .Maybe an unconventional novel about the perils of loneliness is the perfect read for these unconventional, lonely times. Maybe we need the detached musings of a satellite in love, looking outside in, to remind us of what it means to be human—especially when our sense of self seems to be slipping from our grasp." — Stacey May Fowles, Open Book
 
"This debut unconventional novel from indie bookseller Genki Ferguson is one of the most tender books I've read recently." — Rupert McNally, bookseller at Ben McNally Books, Toronto Life
 
"A strange, sweet, and heartbreaking story about loneliness, difference, and what it means to be human. . . . It's a tender and beautiful read. . . . Ferguson's debut is truly a bittersweet, and stunning story. A weird and wonderful meditation on the painfully human desire to believe in something greater than us." — SheDoesTheCity
 
"A tender tragedy that highlights the values of connection and being present while asking what it means to truly exist and be real." — Politics and Prose Bookstore Staff Pick
 
"I loved the beautifully realized characters. I loved the interplay between memory and imagination. . . . And the writing was exquisite. Yes, I really loved this book. New favorite author!" — Jo Owens, author of A Funny Kind of Paradise

"With themes of loneliness, faith, and connection, Satellite Love is a gorgeous and deeply moving story." — Daily Hive

"A mystical story about loneliness, friendship, and the human need for connection. . . .  The facility with which Ferguson captures the cadence and tone of each [of his characters' voices] allows the prose to trip effortlessly off the page. As a result, the reader is invited to melt into the narrative. Satellite Love tackles the big questions: What does it mean to exist? Do our actions (or inaction) have any impact? Is there life after this life? Is anyone looking out for us? These universal questions lay heavy on the hearts of our characters, and so too for the reader, but Ferguson confronts them head-on through the lens of philosophy, spirituality, and faith with charm, humour, poignancy, and thoughtfulness. This is a lovely debut with a lasting impression." — Prairie Flower Reads

"Heartbreaking, spellbinding, beautiful. Satellite Love is an unusual and moving novel. . . . I found this book to be just breathtaking. It speaks to the devastation that bullying and neglect can cause, while highlighting the mind's capacity to protect itself at all [costs]. . . . A sweet, yet tragic and lyrical novel." — Worn Pages and Ink