Taste of Marrow (River of Teeth #2) (Paperback)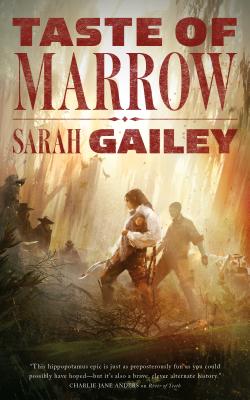 $14.99

We can order this book for you! This will delay shipping your book by 2 - 7 days.
(This book is non-returnable)
Other Books in Series
This is book number 2 in the River of Teeth series.
Description
---
Campbell finalist Sarah Gailey's hippo mayhem continues in Taste of Marrow, the sequel to rollicking adventure River of Teeth.

A few months ago, Winslow Houndstooth put together the damnedest crew of outlaws, assassins, cons, and saboteurs on either side of the Harriet for a history-changing caper. Together they conspired to blow the dam that choked the Mississippi and funnel the hordes of feral hippos contained within downriver, to finally give America back its greatest waterway.

Songs are sung of their exploits, many with a haunting refrain: "And not a soul escaped alive."

In the aftermath of the Harriet catastrophe, that crew has scattered to the winds. Some hunt the missing lovers they refuse to believe have died. Others band together to protect a precious infant and a peaceful future. All of them struggle with who they've become after a long life of theft, murder, deception, and general disinterest in the strictures of the law.
About the Author
---
Hugo Award-winning and bestselling author Sarah Gailey is the author of the novels The Echo Wife and Magic for Liars. Their nonfiction has been published by Mashable and The Boston Globe, and they won a Hugo Award for Best Fan Writer. Their fiction credits also include Vice and The Atlantic. Their debut novella, River of Teeth, was a 2018 finalist for both the Hugo and Nebula Awards.
Praise For…
---
PRAISE FOR RIVER OF TEETH

"Man-eating hippo mayhem is my new favorite mayhem. Gailey's debut is a gift of violent, unexpected glee and I can't wait for more capers with Winslow Houndstooth and Ruby the stealth hippo." —Kevin Hearne, New York Times bestselling author

"This hippopotamus epic is just as preposterously fun as you could possibly have hoped — but it's also a brave, clever alternate history. River of Teeth packs one hell of a gold-plated bite." —Charlie Jane Anders, author of All the Birds in the Sky

"Weird and wonderful, River of Teeth proves handily why Sarah Gailey is a writer to watch." —Chuck Wendig, New York Times bestselling author of Star Wars: Aftermath and Invasive

"Blisteringly imaginative, and written with a sly, sharp wit." —Kate Elliott

"A rowdy, rollicking river ride from a sly and whimsical new writer. A damned fine adventure for everyone. And I haven't even mentioned the hippos yet. Get reading." —Kameron Hurley, Hugo Award-winning author of Mirror Empire and The Geek Feminist Revolution

"River of Teeth is a wonderfully original debut." —NPR

"This is a thing I now know about Sarah Gailey: she is a word-magician who can render searing touch on a flat page and suspend disbelief flawlessly. The world of River of Teeth feels vast, and navigable due to her skill. The characters within, deep and yet intimately knowable." —Fran Wilde, Nebula-nominated, Andre Norton- and Compton Crook-winning author of Updraft and Cloudbound

"I love Sarah Gailey's River of Teeth. It is sexy and raucous and wild and beautiful and violent—aka, everything I've ever wanted from a lawless caper through the American West. Gailey's storytelling is clever and top-notch, and River of Teeth will leave you with adrenaline humming through your veins. I can't recommend this highly enough." —Alyssa Wong, Nebula Award-winning author of "Hungry Daughters of Starving Mothers"