Ballerina: A Step-by-Step Guide to Ballet (Mixed media product, part(s) e)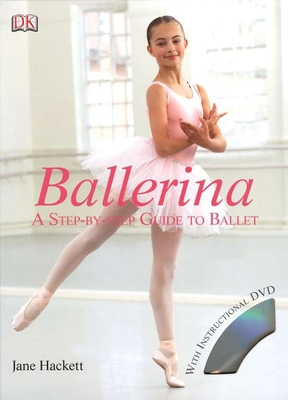 Description
---
Learn the beautiful art of ballet! 

Young dancers will love working through the pages of this ballet book. Beautiful photography, informative text, and an instructional DVD will take aspiring ballerinas from the basics of ballet to their first barre exercises, pas de bourrées, petit allegros and glissades.

Here's what you'll discover inside this illustrated ballet guide:

   • Features practical, step-by-step photography of students ages 6-9 and aspirational photography of real ballet students ages 12-15
   • Step-by-steps for individual positions combine with complete dances to give the dancer an understanding of how it all fits together
   • Close-ups of hand positions and feet positions will ensure that the reader can perfect their moves down to the last detail
   • The DVD expands the world of the book by seeing the moves and individual dances in motion. Children can practice by dancing along with the DVD

Ballerina: A Step-by-Step Guide to Ballet, written by English National Ballet School's Jane Hackett, is an authoritative guide on the art of ballet dancing. The book is the perfect reference for young ballerinas which they can use from their first lesson. The DVD allows readers to follow movements in their own time and brings the ballet class into the living room or home studio. 

The ballet book shows dancers everything they need to know about ballet. Discover what to wear to class, how to learn simple arabesques, and master complete dances. The detailed step-by-step photography breaks down each movement while the close-ups and annotations point out the important details needed to perfect each move.
About the Author
---
Jane Hackett is director of the English National Ballet School. Jane trained at the Royal Ballet School and has danced and choreographed for ballet companies across the world. She has led education programs at Sadler's Wells Royal Ballet and Birmingham Royal Ballet and also researched and implemented Chance to Dance, the Royal Ballet's training program for talented young dancers.