Pop-Up Peekaboo! Forest: Pop-Up Surprise Under Every Flap! (Board book)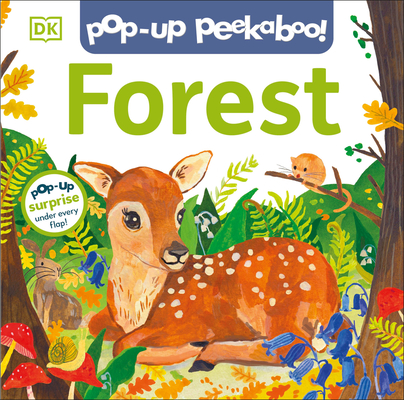 Description
---
An interactive pop-up book that inspires hands-on learning with the help of forest animals! Tactile elements and delightful imagery will encourage the development of motor skills and early learning.

Bold, brightly colored pictures, lift-the-flap pages and entertaining rhymes, Pop-Up Peekaboo: Forest provides lots of opportunities for parent-and-child interaction and hours of forest animal fun. Journey through this habitat, look up in the trees, down to the forest floor, and behind the flowers and ferns, and discover the animals that are hiding in the forest!

Babies and toddlers will love lifting the big flaps to find five peekaboo surprises pop up from the pages: a chatty woodpecker knocking on an oak tree, an adorable fawn staying safe in the undergrowth, a snail, a slug, and tiny ants beneath the leaves on the forest floor, two fox cubs snuggling in their underground den, and an owl family in the pine tree at night-time. Simple information about the forest habitat, the animals that live there, and the homes they make is carefully woven throughout, making this board book a fun and easy introduction to life in the forest. 

Inside the pages of this adventure pop-up book, you'll find:

- Hands-on play that builds confident book skills.
- Look-and-find peekaboo games that reward curiosity.
- Rhythmic, read-aloud text that aids language development.
- Rounded edges and chunky board book pages, protecting babies and their growing teeth!

This pop-up book has been designed as an all-round activity learning experience, to get the most out of story time. Read aloud the lively rhymes that create the amusing story for your kids to follow, and play a guessing game of who is behind the flap! The rhymes and the easy-to-read text help little ones remember the new words they are learning for early language development. 

This interactive book for 2 year olds helps teach young children object permanence, which is an important step in childhood development. Turning the pages and moving the pop-ups helps toddlers learn motor control for improved dexterity.

Complete the Pop-Up book series!

Surprise! The peekaboo fun doesn't stop here! Your little one will enjoy hours of hide-and-seek surprises with the My Pop-Up Series. Find your mermaid friends with Pop-Up Peekaboo! Mermaid, search the oceans in Pop-Up Peekaboo! Under the Sea and travel back in time to find dinosaurs in Pop-up Peekaboo! Baby Dinosaur and more!
About the Author
---
Miranda Sofroniou is a British illustrator based in Melbourne, Australia. She enjoys experimenting with traditional drawing and painting techniques, and is inspired by a love of travel, nature, color, and pattern. Miranda strives to create images which evoke a sense of exploration and wonder.