Eco Baby Where Are You Elephant?: A Plastic-free Touch and Feel Book (Board book)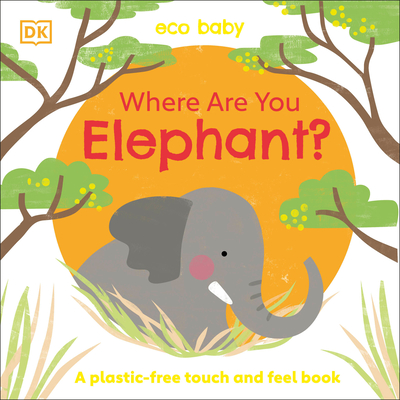 Description
---
Search the African plains for Elephant in this plastic-free touch and feel book and discover beautiful animals along the way!

Let your little explorer take a trip to Africa to track down Elephant and his incredible animal friends. They can say hello to Lion, Hippo, and Zebra in their natural habitat, but where could Elephant be? 

Treasure storytime with your little animal lover! Inside the pages of this charming baby book, you'll discover:

   • Stunning artworks that make a feature of the brown cardboard material of the book
   • Touch and feel elements including corrugated cardboard (for leaves etc.) and die cuts - perfect for little fingers to explore
   • Simple, age-appropriate text ideal for reading aloud to your child as you spot endangered animals together
   • Engaging interactive storyline featuring 5 popular African safari animals; an elephant, giraffe, lion, hippo, and zebra

Where is Elephant hiding?

Who's that taking a lovely long nap in the shade? That's not Elephant! It's a lazy Lion! Can you see his thick mane? Who's bathing in the muddy swamp? Is that you, Elephant? No, that's Hippo and her friend! She's showing us her large teeth. Your toddler will learn how to recognize the names and describe all the incredible animals they see in this imaginative children's educational book.
 
This baby board book is designed to enhance your child's reading experience, while also protecting the environment. Unlike other touch and feel books, Eco Baby: Where Are You Elephant? doesn't contain any plastic. Made from responsibly sourced cardboard, everything in this book is completely recyclable. It's the perfect eco-friendly gift for children.
 
More in the series
 
There are more plastic-free animal picture books to discover in this series from DK Books. Explore the icy Arctic to find the polar bear in Eco Baby: Where Are You Polar Bear?, or search the tropical jungle for the tiger in Eco Baby: Where Are You Tiger? Each book takes you on a journey through a different landscape in search of an animal at risk of extinction.
About the Author
---
We believe in the power of discovery. That's why we create books for everyone that explore ideas and nurture curiosity about the world we live in.
 
From first words to the Big Bang, from the wonders of nature to city adventures, you will find expert knowledge, hours of fun and endless inspiration in the pages of our books. 

https://www.dk.com/