Teaching A Midsummer Night's Dream, Romeo & Juliet, and Macbeth: Shakespeare Set Free (Folger Shakespeare Library) (Paperback)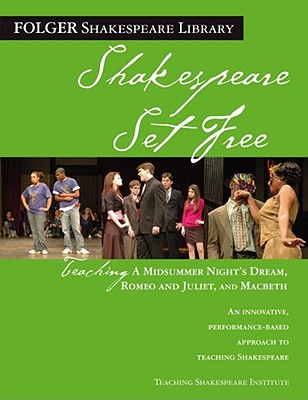 $20.89

We can order this book for you! This will delay shipping your book by 2 - 7 days.
Description
---
The Folger Shakespeare Library, the nation's most important center for Shakespeare study and scholarship, is also the center for Shakespeare education. At the Library's Teaching Shakespeare Institute, scholars, actors, and teachers from across the country work together at the business of teaching and learning Shakespeare.

This volume of the Shakespeare Set Free series is written by institute faculty and participants, and includes the latest developments in recent scholarship. It bristles with the energy created by teaching and learning Shakespeare from the text and through active performance, and reflects the experience, wisdom, and wit of real classroom teachers in schools and colleges throughout the United States.

In this book, you'll find the following:
-Clearly written essays by leading scholars to refresh teachers and challenge older students
-Michael Tolaydo's brilliant and accessible technique for classroom teaching through performance
-Day-by-day teaching strategies that successfully and energetically immerse students of every grade and skill level in the language and in the plays themselves – created, taught, and written by real teachers
About the Author
---
Dr. Peggy O'Brien was named the Folger's director of education in May 2013. A former Folger educator, she established the Library's education philosophy and the bulk of its programs in the 1980s and led the department until 1994, when she left to become director of education programs for the Corporation for Public Broadcasting. Her long and distinguished career has brought her numerous awards and honors, including Doctor of Laws honoris causa from Trinity University, Doctor of Humane Letters honoris causa from Georgetown University, the Public Humanities Award from the DC Community Humanities Council, and the Folger Shakespeare Library's 2008 Shakespeare Steward Award. Prior to her first appointment at the Folger, she spent a number of years teaching high school English in the DC Public Schools, and since then has taught undergraduate courses at Georgetown University.