Kira-Kira (Paperback)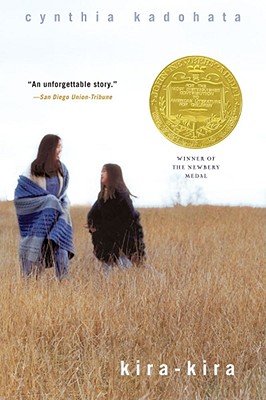 $8.99

We can order this book for you! This will delay shipping your book by 2 - 7 days.
Description
---
kira-kira (kee ra kee ra): glittering; shining Glittering. That's how Katie Takeshima's sister, Lynn, makes everything seem. The sky is kira-kira because its color is deep but see-through at the same time. The sea is kira-kira for the same reason. And so are people's eyes. When Katie and her family move from a Japanese community in Iowa to the Deep South of Georgia, it's Lynn who explains to her why people stop on the street to stare. And it's Lynn who, with her special way of viewing the world, teaches Katie to look beyond tomorrow. But when Lynn becomes desperately ill, and the whole family begins to fall apart, it is up to Katie to find a way to remind them all that there is always something glittering -- kira-kira -- in the future.
About the Author
---
Cynthia Kadohata is the author of the Newbery Medal–winning book Kira-Kira, the National Book Award winner The Thing About Luck, the Jane Addams Peace Award and PEN America Award winner Weedflower, Cracker!, Outside Beauty, A Million Shades of Gray, Half a World Away, Checked, A Place to Belong, Saucy, and several critically acclaimed adult novels, including The Floating World. She lives with her dogs and hockey-playing son in California. Visit her online at CynthiaKadohata.com.
Praise For…
---
"An unforgettable story."
-- San Diego Union-Tribune

"This novel shine[s]."
-- Publishers Weekly, starred review

"Will speak to readers who have lost someone they love or fear that they could."
-- Booklist, starred review
Coverage from NPR