The Bat Boy and His Violin (Hardcover)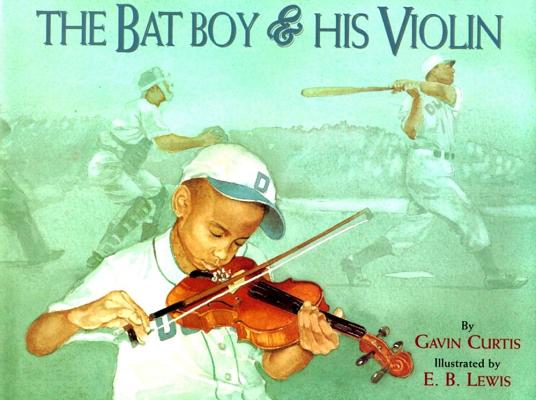 Description
---
A young aspiring violinist learns the value of family ties and team spirit in this picture book lushly illustrated by Caldecott Medal winner E.B. Lewis about a down-on-their-luck baseball team and the music that turns their season around.

Reginald loves to create beautiful music on his violin. But Papa, manager of the Dukes, the worst team in the Negro National League, needs a bat boy, not a "fiddler," and traveling with the Dukes doesn't leave Reginald much time for practicing.

Soon the Dukes' dugout is filled with Beethoven, Mozart, and Bach—and the bleachers are filled with the sound of the Dukes' bats. Has Reginald's violin changed the Dukes' luck—and can his music pull off a miracle victory against the powerful Monarchs?
About the Author
---
Gavin Curtis was born in New York City. His love of writing and drawing developed very early. In elementary school, he created comic books to entertain his friends. When he got older, Gavin went to college at the School of Visual Arts. There, he studied cartooning with renowned storyteller Will Eisner, and even collaborated with Mr. Eisner on two covers for the school's comic book magazine Gallery. He also studied children's book illustration and created the book dummy for his first picture book, Grandma's Baseball. When Gavin finished school, he began working for Marvel Comics where he drew and eventually wrote many stories. He also completed graduate school to get his master's degree in education and become an elementary school teacher. Today, an educator, writer and illustrator, Mr. Curtis continues to push himself creatively.

E.B. Lewis is the award-winning illustrator of such books as Virgie Goes to School with Us Boys by Elizabeth Fitzgerald Howard, which was a Coretta Scott King Illustrator Honor Book, and This Little Light of Mine. He received the Caldecott Honor for Coming on Home Soon by Jacqueline Woodson and the Coretta Scott King Illustrator Award for Talkin' About Bessie: The Story of Aviator Elizabeth Coleman by Nikki Grimes. E.B. Lewis lives in New Jersey, and you can visit him online at EBLewis.com.