A House for Mr. Biswas: Introduction by Karl Miller (Everyman's Library Contemporary Classics Series) (Hardcover)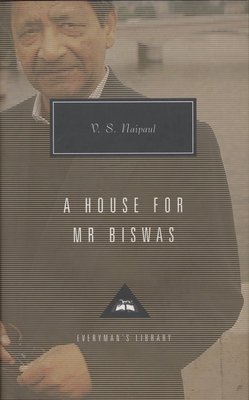 Description
---
From the Nobel Prize-winning author comes a tragicomic masterpiece of social manners in a postcolonial society—and "arguably Mr. Naipaul's finest novel" (The New York Times).  • The book that turned the gentle satirist of the Caribbean into a major literary figure, in a hardcover edition with an introduction by Karl Miller.

His birth ill-omened, his life dominated by fitful, comic struggles and resentful truces with those to whom he is obligated, Mr. Mohun Biswas of Trinidad, toward the end of his forty-sixth year on earth, triumphantly purchases his own house and becomes his own man. Around this supremely simple story, V. S. Naipaul builds one of the few virtually perfect novels in our language, a book that is—in the balance struck between its small incidents and its large, overarching patterns, in the ironic beauty of its prose—at once compelling, mysterious, and classical. It is also one of the few novels in any language that transcend their own genre. By the end of A House for Mr. Biswas we are reading a tremendous parable about the individual self in its enslavement to time and change, and in its search for freedom.
About the Author
---
V.S. NAIPAUL was born in Trinidad in 1932. He came to England on a scholarship in 1950. He spent four years at University College, Oxford, and began to write, in London, in 1954. He pursued no other profession.
 
His novels include A House for Mr Biswas, The Mimic Men, Guerrillas, A Bend in the River, and The Enigma of Arrival. In 1971 he was awarded the Booker Prize for In a Free State. His works of nonfiction, equally acclaimed, include Among the Believers, Beyond Belief, The Masque of Africa, and a trio of books about India: An Area of Darkness, India: A Wounded Civilization and India: A Million Mutinies Now.
 
In 1990, V.S. Naipaul received a knighthood for services to literature; in 1993, he was the first recipient of the David Cohen British Literature Prize. He received the Nobel Prize in Literature in 2001. He died in 2018.
Praise For…
---
"[A] great novel." —Barack Obama

"Naipaul has constructed a marvelous prose epic that matches the best nineteenth-century novels for richness of comic insight and final, tragic power." —Newsweek