Teach Your Child to Read in 100 Easy Lessons: Revised and Updated Second Edition (Paperback)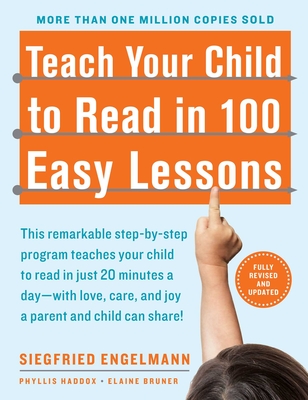 $27.00

We can order this book for you! This will delay shipping your book by 2 - 7 days.
Description
---
With more than one million copies sold, Teach Your Child to Read in 100 Easy Lessons is a remarkable step-by-step, phonics-based program that teaches your child to read in just twenty minutes a day—with love, care, and joy a parent and child can share. Now fully revised and updated with a Practice Guide for parents and an extra section with supplementary material!

"[A] magical book...I've seen this method work in my own home, having used it with both of my children and watched that light go on."—John McWhorter, The New York Times

"Countless parents have told me they used this book to teach their child how to read when their child wasn't being taught in school." —Emily Hanford, host and lead producer of the APM podcast, Sold a Story: How Teaching Kids to Read Went So Wrong

Is your four-year-old or even three-year-old child expressing interest in reading, constantly pretending to read, and asking questions while you are reading&★ Do you want to develop a young reader but are unsure of how to do it&★ Is your child halfway through kindergarten and unable to read simple words without memorizing or guessing&★ Do you want to teach your child to read using the most research-supported method with a long record of success&★

Teach Your Child to Read in 100 Easy Lessons is an adaptation of the most successful beginning reading program written for schools. More than 100 formal studies using the highest-quality research methods have documented the superiority of the Direct Instruction approach to phonics and other essential beginning reading skills.

Teach Your Child to Read in 100 Easy Lessons is a complete, sensible, easy-to-follow, step-by-step program that shows simply and clearly how to teach children to read. In 100 lessons, color-coded for clarity and ease of delivery, you can give your child the basic and more advanced skills needed to be a good reader—at about a second-grade level.

Twenty minutes a day is all your child needs to become an independent reader in 100 lessons. It's an enjoyable way to help your child gain the vital skills of reading. Everything you need is here for you and your child to learn together. Teach Your Child to Read in 100 Easy Lessons will bring you and your child a sense of accomplishment and confidence while giving your child the reading skills needed now for a better chance at tomorrow.

Training videos and additional supplementary material are available for free at StartReading.com.
About the Author
---
Phyllis Haddox coauthored Teach Your Child to Read in 100 Easy Lessons and other Direct Instruction programs with Siegfried Engelmann. She has been a classroom teacher, reading specialist, University of Oregon supervisor and independent trainer/mentor, video producer, and instructional design consultant for the Mayo Clinic and author Barbara Sher. Visit StartReading.com for her free videos and supplementary material for Teach Your Child to Read in 100 Easy Lessons.

Elaine C. Bruner coauthored the original Direct Instruction beginning reading programs with Siegfried Engelmann, pioneered training teachers in Direct Instruction methods, and has worked at the University of Illinois on computer applications of Direct Instruction.

Siegfried Engelmann was a professor of education at the University of Oregon, and wrote numerous bestselling books on teaching, including Give Your Child a Superior Mind and Your Child Can Succeed. He was the originator of the Direct Instruction approach, proven as the most effective method for teaching, and he developed more than 100 Direct Instruction programs. Visit his website at ZigSite.com.
Praise For…
---
"School boards should be pressured as much as possible to teach reading via the Direct Instruction method of phonics. And if they won't, there's what I call the magical book: Teach Your Child to Read in 100 Easy Lessons, by Englemann with Phyllis Haddox and Elaine Bruner. I've seen this method work in my own home, having used it with both of my children and watched that light go on." —John McWhorter, The New York Times

"With its short lessons, intuitive alphabet, clear lessons and hands-on learning component, Teach Your Child to Read in 100 Easy Lessons can be an easy, compact and affordable way for parents to get children reading quickly." —Anne Miller, The Smarter Learning Guide

"Teach Your Child to Read in 100 Easy Lessons is incredible. I owe this book, author and method a huge thank you—my daughter can read now, and more importantly, reads for fun. Plus, it's an interesting way to teach phonics I hadn't seen before." —David Weller, The Barefoot TEFL Teacher

"While working within a university-school partnership, I trained, supervised, and guided my teacher candidates as they implemented Teach Your Child to Read in 100 Easy Lessons with the lowest performing first grade readers at a large urban elementary school. Semester after semester, I witnessed children who were considered 'nonreaders' or poor readers advance to reading with joy and confidence and candidates who became skilled and proud of their newfound craft." —Dr. Susan Syverud, Ph.D

"I have spent years of my life being passionate about literacy and reading... In college I took a path that led me to keep teaching younger and younger children, trying to figure out why they were not prepared until I began directing childcare centers in 2015. I keep hearing/finding the same things. Children are not being taught to read! And parent/teachers have no idea this is happening until about 2nd or 3rd grade. The main reading curriculum is not scientifically researched or backed! Being an educator in this work, I recognize all the care, thought and research it takes to create a resource like this that is so easy for children and facilitators to understand and teach!" —Brittany Lemons, Family and Community Engagement Specialist–Birth to Five Illinois

"Teach Your Child to Read In 100 Easy Lessons has been endorsed by the National Right to Read Foundation as an exemplary instructional program for teaching children to read...The program is academically sound--the results speak for themselves. The continued problem of illiteracy is an enormous one, but [this book has] made a very significant contribution to solving one of American's greatest needs." —Robert W. Sweet, Co-founder and Former President, National Right to Read Foundation