Execution: The Discipline of Getting Things Done (Hardcover)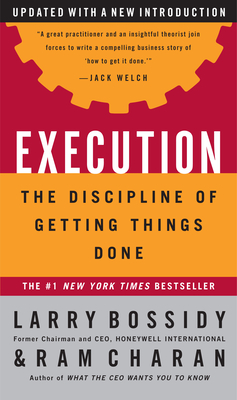 $29.00

We can order this book for you! This will delay shipping your book by 2 - 7 days.
Description
---
#1 NEW YORK TIMES BESTSELLER • More than two million copies in print! The premier resource for how to deliver results in an uncertain world, whether you're running an entire company or in your first management job.
 
"A must-read for anyone who cares about business."—The New York Times
 
When Execution was first published, it changed the way we did our jobs by focusing on the critical importance of "the discipline of execution": the ability to make the final leap to success by actually getting things done. Larry Bossidy and Ram Charan now reframe their empowering message for a world in which the old rules have been shattered, radical change is becoming routine, and the ability to execute is more important than ever. Now and for the foreseeable future: 
 
• Growth will be slower. But the company that executes well will have the confidence, speed, and resources to move fast as new opportunities emerge. 
• Competition will be fiercer, with companies searching for any possible advantage in every area from products and technologies to location and management. 
• Governments will take on new roles in their national economies, some as partners to business, others imposing constraints. Companies that execute well will be more attractive to government entities as partners and suppliers and better prepared to adapt to a new wave of regulation. 
• Risk management will become a top priority for every leader. Execution gives you an edge in detecting new internal and external threats and in weathering crises that can never be fully predicted. 
 
Execution shows how to link together people, strategy, and operations, the three core processes of every business. Leading these processes is the real job of running a business, not formulating a "vision" and leaving the work of carrying it out to others. Bossidy and Charan show the importance of being deeply and passionately engaged in an organization and why robust dialogues about people, strategy, and operations result in a business based on intellectual honesty and realism. 
 
With paradigmatic case histories from the real world—including examples like the diverging paths taken by Jamie Dimon at JPMorgan Chase and Charles Prince at Citigroup—Execution provides the realistic and hard-nosed approach to business success that could come only from authors as accomplished and insightful as Bossidy and Charan.
About the Author
---
Larry Bossidy is chairman and former CEO of Honeywell International, a Fortune 100 diversified technology and manufacturing leader. Earlier in his career he was chairman and CEO of AlliedSignal, chief operating officer of General Electric Credit (now GE Capital Corporation), executive vice president and president of GE's Services and Materials Sector, and vice chairman of GE.

Ram Charan is a highly sought advisor to CEOs and senior executives in companies ranging from start-ups to the Fortune 500, including GE, DuPont, EDS, and Colgate-Palmolive. He is the author of What the CEO Wants You to Know and Boards That Work and the coauthor of Every Business Is a Growth Business. Dr. Charan has taught at both the Harvard Business School and the Kellogg School of Northwestern University.

Charles Burck is a writer and editor who collaborated with Larry Bossidy and Ram Charan. Earlier in his career he was an editor at Fortune magazine.
Praise For…
---
"If you want to be a CEO—or if you are a CEO and want to keep your job—read Execution and put its principles to work."—Michael Dell, chairman and CEO, Dell Computer Corp.

"Good practical insight and advice on managing for results at firms of any size. Execution is key, and this book clearly explains what it means and how it brings together the critical elements of any organization—its people, strategies, and operations."—L. R. Raymond, chairman and CEO, Exxon Mobil

"The best-thought-out plans in the world aren't worth the paper they're written on if you can't pull them off. And that's what this book is all about. Execution: The Discipline of Getting Things Done is well written and gives sound, practical advice about how to make things happen. It is well worth the reading."—Ralph S. Larsen, chairman and CEO, Johnson & Johnson

"Larry Bossidy recognizes how execution in a business defines the true greatness of a company. He captures a lifetime of building winning formulas and puts them in a simple and practical context for executives at any level. Read it!"—Ivan Seidenberg, president and co–chief executive officer, Verizon

"For those managers who have struggled to make it happen, fix a problem, get it done—or otherwise transform winning strategies into genuine results—here's the missing medicine from two who know from long experience what works and what doesn't. Larry Bossidy and Ram Charan offer a compelling leadership prescription, and it comes down to realism, discipline, and above all, great execution."—Michael Useem, professor of management and director of the Center for Leadership and Change, Wharton School, University of Pennsylvania

"Larry Bossidy and Ram Charan define the true meaning of leadership from an implementation point of view. Larry is the expert on productivity in the world of business, and this book demonstrates how leadership is the key to achieving ongoing financial success."—Richard Schroeder, cofounder of Six Sigma Academy