Nell of Gumbling: My Extremely Normal Fairy-Tale Life (Hardcover)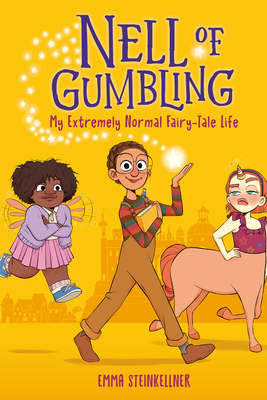 $21.99

We can order this book for you! This will delay shipping your book by 2 - 7 days.
Description
---
Seventh grade is no fairy tale. From the bestselling author of Okay Witch comes an utterly enchanting graphic novel-diary hybrid about a twelve-year-old girl living an ordinary life in a magical land…disappointment, friend drama, adventure, mystery, and all!

To everyone else, the Magical Land of Gumbling is something out of fairy tales. But to Nell Starkeeper, it's just home. Sure, the town community center might be a castle, her dads run a star farm, and her best friend Myra is a fairy, but Nell is much more interested in finding out if she'll get the seventh grade apprenticeship of her dreams with world-famous artist Wiz Bravo.

She's pretty sure her entire life has been RUINED when she's instead matched with boring old Mrs. Birdneck in the town archives. And of course her perfect rival Leabelle gets to work with Wiz, and mean girl Viola won't let Nell forget it. Meanwhile, suddenly Myra seems more into hanging out with Leabelle and saving the town from some weird strangers who keep talking about turning Gumbling into a fancy resort than being friends with Nell anymore. Can Nell find a way to save everything that makes her world magical, while figuring out where she belongs in it?
About the Author
---
Emma Steinkellner is an illustrator, writer, and cartoonist living in Los Angeles, California. She is a graduate of Stanford University and the illustrator of the Eisner-nominated comic Quince. She is the author and illustrator of The Okay Witch graphic novel series.
Praise For…
---
★ "For older kids and younger teens who enjoy stories about magical adventures, friendship, and the challenges of growing up." —School Library Journal, starred review

★ "Colorful and enchanting....Nell of Gumbling is a perfect introduction to both graphic novels and the fantasy genre." —Shelf Awareness, starred review

"A feel-good tale of friendship, community, and unexpected joy." —Kirkus Reviews

"Explosive emotion that leaps off the page....Gently humorous prose teems with goofy asides and astute musings, while thinly lined, softly colored art initiates the first installment of this freewheeling series." —Publishers Weekly