Quiet: Poems (Hardcover)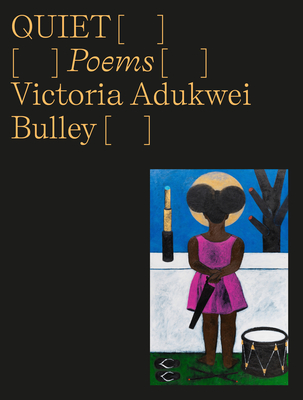 $28.00

We can order this book for you! This will delay shipping your book by 2 - 7 days.
Description
---
A black British poet making her thrilling American debut explores the importance of "quiet" in producing forms of community, resistance, and love.

"Bulley's stunning poems draw you in with their melodious versatility, intellect and dexterity; [they] perfectly embody the political through the personal."—Bernardine Evaristo, Booker Prize-winning author of Girl, Woman, Other

How does one encounter meaning amid so many kinds of noise? What is quiet when it isn't silence? Where does quiet exist—and what liberating potential might it hold? These poems dwell on ideas of black interiority, intimacy, and selfhood, and they celebrate as fiercely as they mourn. With a metaphysical edge and a formal restlessness attuned to both the sonics and the inadequacies of language, Quiet navigates the tension between the impulse to guard one's inner life and the knowledge that, as Audre Lorde writes, "your silence will not protect you."
About the Author
---
VICTORIA ADUKWEI BULLEY is a poet, writer and artist. An alumna of the Barbican Young Poets and recipient of an Eric Gregory award, Victoria has held residencies in the US, Brazil and the V&A Museum in London. Her debut pamphlet, Girl B, was published by the African Poetry Book Fund in 2017. She is the recipient of a Techne scholarship for doctoral research at Royal Holloway, University of London. Her debut collection, Quiet, was shortlisted for the T. S. Eliot Prize and won the Rathbones Folio Prize for Poetry and the John Pollard Foundation International Poetry Prize.
Praise For…
---
WINNER OF THE POLLARD INTERNATIONAL POETRY PRIZE

Named a Best Book of 2023 by the New York Public Library

"This debut poetry collection is abundant with thoughtful storytelling. Each poem is ruminative and distills the intimacies of Black girl/womanhood with fascinating images, compelling observations and a nomadic sense of questioning, while honouring the concept of silence and the ways it plays out in one's interior life. These delicate poems unpick encounters with loved ones, friends and animals (there's a beautiful poem about snails) and also focus firmly on the wider world, with poems such as 'Pandemic vs Black Folk' written with the sharpest of tongues."—Kadish Morris, The Guardian

"Clever and capacious poems . . . Bulley invites us in as she turns everything – intimate and secret, precious and precarious – inside out. . . . Bulley's collection may begin quietly, but by the end her voice is clearly heard."—Sana Goyal, TLS

"[These] poems are so compelling that you won't be able to stop reading them."—Elle

"A quiet revolution of a book – subtle, supple and serious . . . Tender and true, complex and profound, Quiet is a beautiful balancing act of a book – a debut that brings Adukwei Bulley fully formed, starting something."—2023 Rathbones Folio Prize Judges

"These poems call out in the quiet, the personal and the political fused, the poet falling through the self and plucking from the air bright marvels, lost and stolen language, defiance, lamentation and beauty."—Eoin McNamee, Chair of Judging Panel, 2023 John Pollard International Poetry Prize

"Quiet moves between anger and tenderness, scientific curiosity and raw grief, full-on noisiness and meditative quiet. [Bulley's] spirited and generous work is not always quiet: there are overtly political poems, poems in experimental forms, and a number of spectacularly powerful prose poems, including a long and dazzling riff on 'noise.' Buy the collection."—Carol Rumens, "Poem of the Week," The Guardian

"The NS's top poetry pick for 2022 . . . Bulley explores silence as a means of resistance, examines ideas of black interiority, and wonders how far one needs to let others 'in' in order to be understood."—New Statesman

"[Quiet] employs a wide range of poetic forms and lyric breakages that are well-observed and fitting for the world Bulley wants to build, destroy, and rebuild again. . . . Quiet is an exploration of what can be conjured – dreamed – from darkness, from nothingness. And of course, the horrors, tangible and figurative, that one must know intimately in order to survive the belly of such a beast: racism, mental illness, loss and grief. The collection hones its sharpest lyric blades, its most piercing lines, against the walls of this blackness."—Magma Poetry, Arianna Benson

"Quiet, Victoria Adukwei Bulley's first, lambent collection of poetry . . . is rich in multitudes. With deft grace, Bulley's poems delve into Black selfhood and the surrealism of daily life. They wryly reckon with both institutional and interpersonal erasure, speaking through the noise. . . . In all its unquieting brilliance, Quiet is a gift of a book to bless your year anew."—The Big Issue

"[A] standout debut . . . This is an exploration of race, empire, friendship, nature and community written with an assured combination of critical originality and formal skill that is rare in first collections."—Martina Evans, Irish Times

"Bulley has concertinaed an exhilarating breadth of ideas into her incisive debut. Quiet augurs a bold career."—Sylee Gore, Harriet Books, Poetry Foundation

"Victoria Adukwei Bulley's stunning poems draw you in with their melodious versatility, intellect and dexterity; perfectly embody the political through the personal; and are freedom-loving shapeshifters constantly changing form and animating ideas and language to surprising effect. This is her debut collection, but she arrives fully formed."—Bernardine Evaristo, Booker Prize-winning author of Girl, Woman, Other
 
"In Quiet, Victoria Adukwei Bulley advances a poetics of balance. The poems collected in these pages mix a technically assured, sonically resonant surface with a profoundly evocative, scrupulously integrated core. This book is a seismic event; its vibrations will be felt for a long time to come."—Kayo Chingonyi, author of A Blood Condition

 "[Bulley] achieves a tone both delicate and strong, studded with moments that catch the breath. . . . Rooted in Black feminist thinking, the poems have a clear-eyed elegance, buttressed with a controlled ferocity that is acute on the damage done by institutional blankness, and how it forces an uncomfortable conformity. . . . With a generous and interrogative spirit, Quiet marks the arrival of a major poetic talent."—Rishi Dastidar, The Guardian

"I've been waiting for this book for years and Victoria Adukwei Bulley's Quiet does not disappoint. There is so much to celebrate, so much to live for. Adukwei Bulley's poems find new ways to look outwards by looking inwards in a range of lyric modes and volumes. They are quietly articulated prayers of the searching, missing and surviving as well as poems full of loud joyful living. These highly complex and accomplished poems keep moving themselves (and us, the readers), towards a feeling of aliveness in that rare way that feels earned and fought for."—Raymond Antrobus, author of The Perseverance, winner of the Rathbones Folio Prize

"In this shapeful text — both mysterious and crystalline — Victoria Adukwei Bulley writes a language of listening steeped in Black feminist thought and personal history. Quiet is sculptural, shiftful. It flourishes with stunning attention."—Aracelis Girmay, author of The Black Maria

"I was blown away by Victoria Adukwei Bulley's Quiet – she's a writer of staggering intellect, grace and style, and these poems are balletic in their elegance, powerful both when they whisper and when they yell."—Joanna Lee, The White Review

"Victoria Adukwei Bulley's Quiet [is] a profound exploration of black selfhood, and the delicate balance between intimacy and expression."—Rebecca Tamás, author of Witch

"Quiet . . . does so much work stretching out the usual form of the poem and the line."—Adam Thirlwell, author of Lurid & Cute