River Poems (Everyman's Library Pocket Poets Series) (Hardcover)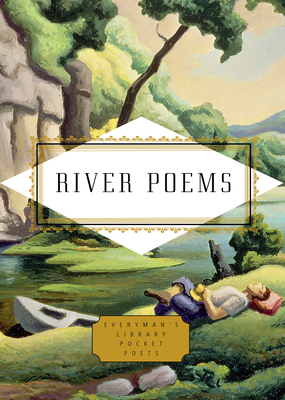 $18.00

We can order this book for you! This will delay shipping your book by 2 - 7 days.
Description
---
An anthology that explores the power and beauty of rivers through poems from around the world and through the ages. AN EVERYMAN'S LIBRARY POCKET POET.

Rivers were the arteries of our first civilizations—the Tigris and Euphrates of Mesopotamia, India's Ganges, Egypt's Nile, the Yellow River of China—and have nourished modern cities from London to New York, so it's natural that poets have for centuries drawn essential meanings and metaphors from their endless currents.

In this collection, British poets from Shakespeare and Wordsworth to Ted Hughes and Alice Oswald mingle with American voices ranging from verses by the indigenous Klallam people and the African-American spirituals "Deep River" and "Roll, Jordan, Roll" to such recent poets as Gary Snyder, Mary Oliver, and Natasha Tretheway. Walt Whitman's iconic "Crossing Brooklyn Ferry" and Emily Dickinson's tersely erotic "My River Runs to Thee" stream alongside poems from ancient Babylon and Egypt. Contributions from India, Nepal, Japan, China, Thailand, France, Germany, Russia, Serbia, Chile, Mexico, the Congo, and Nigeria round out this celebration of the rivers of the world.

Includes:
• "My River Runs to Thee" by Emily Dickinson
• "The Negro Speaks of Rivers" by Langston Hughes
• "Ol' Man River" by Oscar Hammerstein II
• "The Golden Boat" by Rabindranath Tagore
• "The River God" by Stevie Smith
• "The River Bends but the Water Does Not" by Buddhādasa Bhikkhu 
• "The Niagara River" by Kay Ryan
• "Amazon" by Pablo Neruda 
 
Everyman's Library pursues the highest production standards, printing on acid-free cream-colored paper, with full-cloth cases with two-color foil stamping, decorative endpapers, silk ribbon markers, European-style half-round spines, and a full-color illustrated jacket.
About the Author
---
HENRY HUGHES is a poet, essayist, and professor of English at Western Oregon University. A winner of the Oregon Book Award, he is also the editor of the Everyman's Library collections The Art of Angling: Poems about Fishing and Fishing Stories.