The Rabbit Hutch: A novel (Hardcover)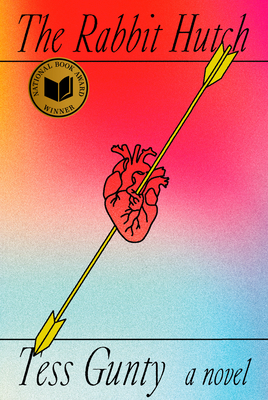 $28.00

We can order this book for you! This will delay shipping your book by 2 - 7 days.
August 2022 Indie Next List
---
"The Rabbit Hutch is an inventive and lyrical tale of Midwestern decay, environmental destruction, and toxic masculinity. John Brandon meets Lauren Groff with the occasional experimental aside. An ambitious and assured debut."
— Matt Stowe, Greenlight Bookstore, Brooklyn, NY
Description
---
NATIONAL BOOK AWARD WINNER • The standout literary debut that everyone is talking about • "Inventive, heartbreaking and acutely funny."—The Guardian

A BEST BOOK OF THE YEAR: The New York Times, TIME, NPR, Oprah Daily, People

Blandine isn't like the other residents of her building.

An online obituary writer. A young mother with a dark secret. A woman waging a solo campaign against rodents — neighbors, separated only by the thin walls of a low-cost housing complex in the once bustling industrial center of Vacca Vale, Indiana.

Welcome to the Rabbit Hutch.

Ethereally beautiful and formidably intelligent, Blandine shares her apartment with three teenage boys she neither likes nor understands, all, like her, now aged out of the state foster care system that has repeatedly failed them, all searching for meaning in their lives.

Set over one sweltering week in July and culminating in a bizarre act of violence that finally changes everything, The Rabbit Hutch is a savagely beautiful and bitingly funny snapshot of contemporary America, a gorgeous and provocative tale of loneliness and longing, entrapment and, ultimately, freedom.

"Gunty writes with a keen, sensitive eye about all manner of intimacies―the kind we build with other people, and the kind we cultivate around ourselves and our tenuous, private aspirations."—Raven Leilani, author of Luster
About the Author
---
TESS GUNTY earned an MFA in creative writing from NYU, where she was a Lillian Vernon Fellow. Her work has appeared in The Iowa Review, Joyland, Los Angeles Review of Books, No Tokens, Flash, and elsewhere. She was raised in South Bend, Indiana, and lives in Los Angeles.
Praise For…
---
NATIONAL BOOK AWARD WINNER • NATIONAL BOOK CRITICS CIRCLE AWARD FINALIST • A NEW YORKER ESSENTIAL READ • A Best Book of the Year: The New York Times, TIME, NPR, Oprah Daily, Literary Hub, Kirkus • A People Top 10 Book of The Year • A Bookpage Top 10 Book of the Year

"Mesmerizing . . . A novel of impressive scope and specificity . . . One of the pleasures of the narrative is the way it luxuriates in language, all the rhythms and repetitions and seashell whorls of meaning to be extracted from the dull casings of everyday life. . . . [Gunty] also has a way of pressing her thumb on the frailty and absurdity of being a person in the world; all the soft, secret needs and strange intimacies. The book's best sentences — and there are heaps to choose from — ping with that recognition, even in the ordinary details."—Leah Greenblatt, The New York Times Book Review

"The most promising first novel I've read this year . . . A feeling of genuine crisis . . . propels the narrative through its many twists to the catharsis of its bizarre ending."—Sam Sacks, The Wall Street Journal

"Ambitious . . . Despite offering a dissection of contemporary urban blight, the novel doesn't let social concerns crowd out the individuality of its characters, and Blandine's off-kilter brilliance is central to the achievement."—The New Yorker

"Transcendent . . . Compelling and startlingly beautiful . . . Gunty weaves these stories together with skill and subtlety."—Clea Simon, The Boston Globe

"Riveting . . . The Rabbit Hutch balances the banal and the ecstatic in a way that made me think of prime David Foster Wallace. It's a story of love, told without sentimentality; a story of cruelty, told without gratuitousness. Gunty is a captivating writer."—Sarah Ditum, The Guardian

"Original and incisive . . . This is an important American novel, a portrait of a dying city and, by extension, a dying system. Its propulsive power is not only in its insight and wit, but in the story of this ethereal girl. . . . She is so vibrantly alive and awake that when I finished this book, I wanted to feel that. I wanted to walk outside. I wanted what is real. I wanted to wake up. Tess Gunty's The Rabbit Hutch is breathtaking, compassionate and spectacular."—Una Mannion, The Irish Times

"A powerful and brutal book, brimming with dark and funny lines . . . Gunty's true subject, though, is a land of loneliness, squandered potential and exploitation that feels uniquely American — and also the human interconnections and strokes of luck that can help us survive it."—Dorany Pineda, Los Angeles Times

"This seriously impressive debut novel — about the inhabitants of a low-rent apartment block in small-town Indiana — thrillingly blends the vivid realism and comic experimentalism so beloved of American fiction. The writing is incandescent, the range of styles and voices remarkable. . . . There's so much dazzling stuff here, it can be hard to know where to look. . . . What lingers is something simple: the sparkling interiority of its characters."—Robert Collins, The Sunday Times (London)

"Just when everything seemed designed for a brief moment of utility before its planned obsolescence, here comes The Rabbit Hutch, a profoundly wise, wildly inventive, deeply moving work of art whose seemingly infinite offerings will remain with you long after you finish it. Each page of this novel contains a novel, a world."—Jonathan Safran Foer, author of Everything Is Illuminated

"The Rabbit Hutch aches, bleeds, and even scars but it also forgives with laughter, with insight, and finally, through an act of generational independence that remains this novel's greatest accomplishment, with an act of rescue, rescue of narrative, rescue from ritual, rescue of heart, the rescue of tomorrow."—Mark Z. Danielewski, author of House of Leaves

"Philosophical, and earthy, and tender and also simply very fun to read—Tess Gunty is a distinctive talent, with a generous and gently brilliant mind."—Rivka Galchen, author of Everyone Knows Your Mother Is a Witch

"An astonishing portrait . . . Gunty delves into the stories of Blandine's neighbors, brilliantly and achingly charting the range of their experiences. . . . It all ties together, achieving this first novelist's maximalist ambitions and making powerful use of language along the way. Readers will be breathless."—Publishers Weekly (starred review)

"Darkly funny, surprising, and mesmerizing . . . A stunning and original debut that is as smart as it is entertaining . . . Gunty pans swiftly from room to room, perspective to perspective, molding a story that . . . is extremely suspenseful and culminates in a finale that will leave readers breathless. With sharp prose and startling imagery, the novel touches on subjects from environmental trauma to rampant consumerism to sexual power dynamics to mysticism to mental illness, all with an astonishing wisdom and imaginativeness. . . . A striking and wise depiction of what it means to be awake and alive in a dying building, city, nation, and world."—Kirkus Reviews (starred review)