Banana Ball: The Unbelievably True Story of the Savannah Bananas (Hardcover)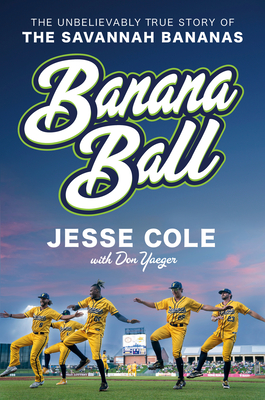 $29.00

We can order this book for you! This will delay shipping your book by 2 - 7 days.
Description
---
The Savannah Bananas have peeled back the game of baseball and made it fun again.

This is their story.
 
For his entire childhood, Jesse Cole dreamed of pitching in the Majors. Now, he has a life in baseball that he could have only imagined: he met the love of his life in the industry; they shaped Savannah, Georgia's professional team into the league champion Savannah Bananas; and now the Bananas have restyled baseball itself into something all their own: Banana Ball. 
 
Fast, fun, and outrageously entertaining, Banana Ball brings fans right into the game. The Bananas throw out a first banana rather than a ball. Their first-base coach dances to "Thriller" or Britney between innings. Players run into the crowd to hand out roses. And the rules themselves are bananas: if a fan catches a foul ball it's an out; and players might go to bat on stilts or wearing a banana costume. And their fans absolutely love it. 
 
But the reason this team is on the forefront of a movement is less about the play on the field and more about the atmosphere that the team culture creates. For the first time in this book, Jesse reveals the ideas and experiences that allowed him to reimagine America's oldest sport by creating a phenomenon that is helping fans fall in love with the game all over again. 
 
This is a story that's bigger than baseball and bigger than the yellow tuxedo Jesse wears as the "ringmaster" of every game. And to understand the movement, you have to understand the story at its core. In Jesse's telling, it takes heart, innovation, and joy (and a bit of tropical fruit) to make something wholly original out of one of America's great traditions. His story is part Moneyball, part Field of Dreams, part The Greatest Showman. It is a personal story, a creativity story, and the story of a business scrapping for every success. And it has several distinct love stories—love stories like Jesse and his father, Jesse and his wife, the team and the sport of baseball, the team and the fans.
 
This is Jesse calling his dad from the outfield after each Bananas game, and putting unending creativity into a team with the ultimate goal of bringing the Bananas to the professional ballparks he himself never got to play in. This is his story of baseball, love, leadership, and going just a bit bananas for all.
About the Author
---
Jesse Cole is the founder of Fans First Entertainment and owner of the Savannah Bananas. He has been featured on over 1,000 podcasts and delivers keynote speeches all over the world, and he lives in Georgia and North Carolina with his wife, son, and two daughters.
Praise For…
---
Finalist for the CASEY Award for Best Baseball Book of the Year

One of Kirkus' "10 Nonfiction Books To Broaden Your Summer Reading"

Featured in Garden and Gun's "The Big Southern Summer Reading List"

"The Savannah Bananas are one of the greatest—and most improbable—stories in sports. This is the story of how Banana Ball was born, told by the inventor himself."—Esquire

"Cole's belief in Banana Ball shines through on the page, and it found me ripe for the picking."—Washington Post

"Jesse Cole…has turned the Savannah Bananas, a minor league exhibition baseball team, into a world-class case study in marketing and customer experience…If you want to dig into the marketing lessons that Cole used to turn a minor league exhibition team into a sensation, you can start by reading Cole's latest book."—Forbes

"Banana Ball recounts [Cole's] early passion for the game, how baseball introduced him to his wife, Emily, and the team's wacky 2016 launch in the summer collegiate Coastal Plain League…what Cole hopes readers take away from the book is inspiration to stand out—with or without a yellow tux"—Atlanta

"To hell with designated hitters: This baseball-like game makes up the rules as it goes along. This particular circus is reimagining baseball as a game that not only purists and traditionalists can love. Anyone who can think outside the diamond will enjoy Cole's entertaining yarn." —Kirkus

"Banana Ball provides an engaging look at the team's founding and its "fans first, entertain always" philosophy…Where the book really scores is when it focuses on Cole's personal backstory, including his relationships with his dad and Emily and the early days of trying to build the Banana empire." —Associated Press