An Autobiography of Skin: A Novel (Hardcover)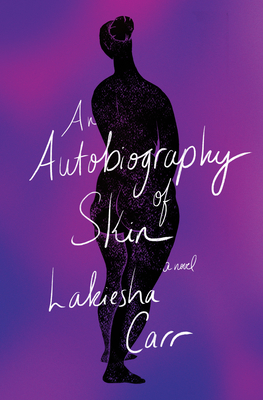 Description
---
This magisterial, intimate look at Black womanhood "follows three women whose various traumas haunt them literally and metaphorically, as it explores what it means to be a Black woman in America today" (The New York Times Book Review, Editor's Choice).

A middle-aged woman feed slots at a secret back-room parlor. A new mother descends into a devastating postpartum depression, wracked with the fear that she is unable to protect her children. A daughter returns home to join the other women in her family waging spiritual combat with the ghosts of their past.

An Autobiography of Skin is a dazzling and masterful portrait of interconnected generations in the South from a singular new voice, offering a raw and tender view into the interior lives of Black women. It is at once a powerful look at how experiences are carried inside the body, inside the flesh and skin, and a joyous testament to how healing can be found within—in love, mercy, gratitude, and freedom.
About the Author
---
LAKIESHA CARR graduated from Southern Methodist University in Dallas, Texas, and received her MFA at the Iowa Writers' Workshop, where she was awarded a Maytag Fellowship for Excellence in Fiction and a Jeff and Vicki Edwards Post-graduate Fellowship in Fiction. A journalist and writer from East Texas, she has held various editorial and production positions with CNN, The New York Times, and other media. Her writing has received support from the Bread Loaf Writers' Conference, the Callaloo Creative Writing Workshop, the DC Commission on Arts & Humanities for nonfiction writing, and the Kimbilio Fellowship for fiction writing.
Praise For…
---
A New York Times Editor's Choice
**LONGLISTED FOR THE CENTER FOR FICTION FIRST NOVEL PRIZE**
 
"[A] powerful debut."
—The New Yorker

"In this love letter to women, Lakiesha Carr drops us into the lives of a multigenerational group of unforgettable women. . . . Part of the book's pleasure is discovering how [they] are connected via three achingly poignant, interconnected stories, connections which are not at all typical, but unexpected and true-to-life."
—Amerie's Book Club, March 2023 Selection

"A multifaceted examination of life as a Black woman. . . . Subtle, leaving space for each character to process and reflect on their own lives. . . . full of both humor and sadness, but most importantly, possibility."
—Shondaland

"Powerful. . . . [An Autobiography of Skin] follows three women whose various traumas haunt them literally and metaphorically, as it explores what it means to be a Black woman in America today."
—The New York Times Book Review, Editor's Choice

"An Autobiography of Skin marks the arrival of a major literary talent. Carr is doing nothing less than excavating the ghosts of her ancestors and exploring the ways that they, and America's racial past, continue to haunt. . . . This is a book of great psychological and emotional acuity."
—Houston Chronicle

"Powerful and timely. . . . It is a testament to Carr's power as a writer that she is able to so clearly represent these aspects of her characters' experiences with such intimacy and honesty. In that sense, the book is an admission of the fact that, for all the changes that have occurred in our society over the past 100 years, many Black people, both men and women, are still processing the trauma and violence caused by their body's simultaneous hypervisibility and erasure."
—The New York Times Book Review

"I was stunned by Lakiesha Carr's preciseness of memory; how she remembers things that most people do not—the ancient things, the careless things, the shameful things—because forgetting feels better. It's courageous to give them voice; and not just any voice, but a singsongy one, like a blues or a gospel. So beautifully crafted, An Autobiography of Skin is a dangerous and needed magic, both frightening and joyful in its conjuring. 
—Robert Jones, Jr., author of The Prophets, a New York Times bestseller and a finalist for National Book Award for Fiction

"Lakiesha Carr writes achingly . . . [A] distinguished debut—its bodily rhythms, its sensory evocativeness, its quality of attention to the human soul—perhaps what defines it most is its insistent drive toward honesty, toward the compelling truths that could only have been uncovered by the angled vision of this particular author."
—Jamel Brinkley, author of A Lucky Man

"Full of aching desire and hard won wisdom, An Autobiography of Skin is a work of art. Carr's pages contain the kinds of Black women we see but seldom hear. This book is nothing short of a love letter to the powerful women who comprise the heart of a community."
—Maurice Carlos Ruffin, author of The Ones Who Don't Say They Love You

"With rich and rhythmic prose, Lakiesha Carr pulls us into the warm, wounded bodies of her unforgettable characters. Obstinate, yearning women make their way through a world that day after day asks too much of them. Still, they each guard something miraculous: hope, mostly intact. Carr writes with compassion, wicked humor, and a rare intuition that runs deep and true."
—Chia-Chia Lin, author of The Unpassing

"Meditative and powerful in its love for the generations of Black women at its heart, An Autobiography of Skin dives body-and-soul into its characters' experiences to explore questions about faith, forgiveness, and the fortitude that just living day to day can sometimes require. Lakiesha Carr unspools her stories with a patient fearlessness, venturing into unexpected places and unique perspectives to fully illuminate them."
—Dawnie Walton, author of The Final Revival of Opal and Nev

"Lakiesha Carr writes elegantly about grief and passion, loss and redemption, though she is unafraid to twist the knife. Her characters endure monumental heartbreaks, both from their loved ones and a world that threatens all manner of violence yet demands sacrifice in return. These women face life's inevitable disappointments, and while their choices may haunt us, they also remind us that romance somehow persists, as does the human spirit. A gorgeous debut from a talent to watch."
—Laura Warrell, author of Sweet, Soft, Plenty Rhythm

"An immersive journey . . . this novel features women you'll want to fight for—three generations whose very survival hinges on struggle not just with the men in their lives but the very flesh and skin they are living in."
—Oprah Daily

"With gorgeous prose and subtly spectral vibes, Carr's striking debut delves into generational trauma. . . . By tracing the characters' complex bonds, Carr underscores the power of community and kinship among Black women who find a way to be vulnerable and joyful in a world that too often changes them with the role of caretakers. This exploration of love, courage, and desire is not to be missed."
—Publishers Weekly, starred review

"A deep plunge into the depths of violence, faith, and love. . . . With vivid writing and characters, Carr's debut is . . . always passionate, never boring."
—Kirkus Reviews
 
"Emotions practically drip off the page . . . Carr's writing is eloquent and engaging."
—Booklist