The Cheffe: A Cook's Novel (Paperback)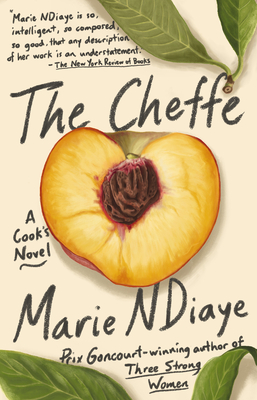 $16.00

Backordered - available date varies.
Description
---
From the celebrated French writer Marie NDiaye--Prix Goncourt-winning author of Three Strong Women--comes the story of the Cheffe: a woman who lives in the single-minded pursuit of creating incomparable culinary delights.

Born into poverty in southwestern France, as a teenager the Cheffe takes a job working for a wealthy couple in a neighboring town. It is not long before it becomes clear that she has an unusual, remarkable talent for cooking, and soon her sheer talent and ambition put her in charge of the couple's kitchen. Though she revels in the culinary spotlight, the Cheffe remains secretive about the rest of her life. She shares nothing of her feelings or emotions. She becomes pregnant but will not reveal her daughter's father. And when the demands of her work become too great, she leaves her baby in the care of her family and sets out to open her own restaurant, to rave reviews. As time goes on, the Cheffe's relationship with her daughter remains fraught, and eventually it threatens to destroy everything the Cheffe has spent her life perfecting. Told from the perspective of the Cheffe's former assistant and unrequited lover, this stunning novel by Marie NDiaye is a gustatory tour de force.
About the Author
---
MARIE NDIAYE was born in Pithiviers, France, in 1967; spent her childhood with her French mother (her father was Senegalese); and studied linguistics at the Sorbonne. In 2001, she was awarded the prestigious Prix Femina for her novel Rosie Carpe; in 2009, the Prix Goncourt for Three Strong Women; and, in 2015, the Gold Medal in the Arts from the Kennedy Center International Committee on the Arts.
Praise For…
---
"Marie NDiaye is so intelligent, so composed, so good, that any description of her work feels like an understatement."
—The New York Review of Books

"Beautiful. . . . A story about impressions, ideas, and the extreme subtleties of human relationships."
—Chicago Review of Books
 
"An arresting portrait of a self-effacing genius."
—The New Yorker

"Luminous. . . . Any woman who has ever allowed her career to take precedence, even for an hour, over her offspring, will cringe in understanding."
—The Washington Post

"A sensual portrayal of the indispensable place of talented cooks in the world of the French bourgeoisie. NDiaye's heroine doesn't wield overt power over this class, but instead commits herself to delivering savory before sugar, invention and technique before pleasure."
—The New York Times Book Review
 
"Eminently polished, deliciously rhythmic. . . . The Cheffe is a powerful reminder that any act of creation requires an act of patronage; there is no pure creation without the audience that consumes it."
—The New York Review of Books
 
"An ode to wasted love. . . . The Cheffe is so gracefully reserved that her story is equal parts alluring and infuriating. Not knowing usually is. . . . What is the price we pay for true originality? NDiaye suggests it might be a rejection of the things we're supposed to value, that might hold us back."
—Guernica
 
"Writing against cliché—e.g., cooking is a site of carnage, not delight—is vital to NDiaye's novels. Borrowing from Freud, supernatural thriller, and family saga, her work is famously difficult to classify."
—4Columns
 
"Like a great meal, The Cheffe leaves us pleasantly sated but still wanting more."
—BookPage
 
"[A] portrait of a woman comfortable in her own skin, in . . . hypnotic prose that stalks and surrounds its subject as though hypnotizing it."
—Music & Literature no.8
 
"Hauntingly original and told in a conversational tone that quickly makes readers feel they are the narrator's confidants, this is another entry in NDiaye's already impressive volume of work."
—Booklist
 
"[An] engrossing psychological novel. . . . Like the Cheffe's recipes, at first tantalizingly simple but eventually so austere they threaten to 'tumble into fruitlessness' and become useless, the narrator's efforts to describe the Cheffe's mind and heart are both enthralling and fundamentally unreliable as a record of her life. . . . Fascinating and mysterious."
—Publishers Weekly
 
"A finely constructed work with a surprising and satisfying ending, like a fine meal leading up to a delicious dessert."
—Library Journal