Untangled: Guiding Teenage Girls Through the Seven Transitions into Adulthood (Paperback)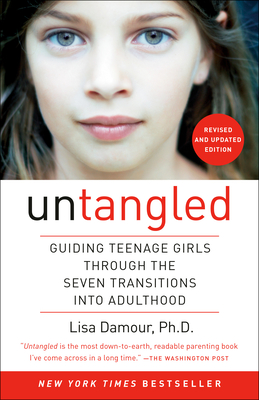 $18.00

We can order this book for you! This will delay shipping your book by 2 - 7 days.
Description
---
NEW YORK TIMES BESTSELLER • An award-winning guide to the sometimes erratic and confusing behavior of teenage girls that explains what's going on, prepares parents for what's to come, and lets them know when it's time to worry.
 
Look for Under Pressure, the companion guide to coping with stress and anxiety among girls, available now.

In this sane, highly engaging, and informed guide for parents of daughters, Dr. Damour draws on decades of experience and the latest research to reveal the seven distinct—and absolutely normal—developmental transitions that turn girls into grown-ups, including Parting with Childhood, Contending with Adult Authority, Entering the Romantic World, and Caring for Herself. Providing realistic scenarios and welcome advice on how to engage daughters in smart, constructive ways, Untangled gives parents a broad framework for understanding their daughters while addressing their most common questions, including

• My thirteen-year-old rolls her eyes when I try to talk to her, and only does it more when I get angry with her about it. How should I respond?
• Do I tell my teen daughter that I'm checking her phone?
• My daughter suffers from test anxiety. What can I do to help her?
• Where's the line between healthy eating and having an eating disorder?
• My teenage daughter wants to know why I'm against pot when it's legal in some states. What should I say?
• My daughter's friend is cutting herself. Do I call the girl's mother to let her know?

Perhaps most important, Untangled helps mothers and fathers understand, connect, and grow with their daughters. When parents know what makes their daughter tick, they can embrace and enjoy the challenge of raising a healthy, happy young woman.

BOOKS FOR A BETTER LIFE AWARD WINNER

"Finally, there's some good news for puzzled parents of adolescent girls, and psychologist Lisa Damour is the bearer of that happy news. [Untangled] is the most down-to-earth, readable parenting book I've come across in a long time."—The Washington Post

"Anna Freud wrote in 1958, 'There are few situations in life which are more difficult to cope with than an adolescent son or daughter during the attempt to liberate themselves.' In the intervening decades, the transition doesn't appear to have gotten any easier which makes Untangled such a welcome new resource."—The Boston Globe
About the Author
---
Lisa Damour, Ph.D., graduated with honors from Yale University, worked for the Yale Child Study Center, then received her doctorate in clinical psychology at the University of Michigan. She is the author of numerous academic papers and chapters related to education and child development. Dr. Damour directs Laurel School's Center for Research on Girls, maintains a private psychotherapy practice, consults and speaks internationally, and is a faculty associate of the Schubert Center for Child Studies and a clinical instructor at Case Western Reserve University. She and her husband have two daughters and live in Shaker Heights, Ohio.
Praise For…
---
"Finally, there's some good news for puzzled parents of adolescent girls, and psychologist Lisa Damour is the bearer of that happy news. [Untangled] is the most down-to-earth, readable parenting book I've come across in a long time."—The Washington Post

"Anna Freud wrote in 1958, 'There are few situations in life which are more difficult to cope with than an adolescent son or daughter during the attempt to liberate themselves.' In the intervening decades, the transition doesn't appear to have gotten any easier which makes Untangled such a welcome new resource."—The Boston Globe

"Damour offers a hopeful, helpful new way for parents to talk about—and with—teenage girls. . . . Parents will want this book on their shelves, next to established classics of the genre."—Publishers Weekly

"For years people have been asking me for the 'girl equivalent of Raising Cain,' and I haven't known exactly what to recommend. Now I do."—Michael Thompson, Ph.D., co-author of Raising Cain

"An essential guide to understanding and supporting girls throughout their development. It's obvious that Dr. Damour 'gets' girls and is one of the few experts in the field who works with them day in and day out. She clearly understands the best way for any adult to help them navigate the common yet difficult challenges so many girls face."—Rosalind Wiseman, author of Queen Bees & Wannabes

"Untangled is a gem. Lisa Damour deftly blends insights from her clinical experience working with girls, time-honored wisdom on adolescence, the latest social science and neuroscience research, and frank descriptions of cultural trends and media messages. From the moment I read the last page I've been recommending it to my clients (including those with sons!) and colleagues, and using it as a refreshing guide in my own work with teenagers and their parents."—Wendy Mogel, Ph.D., author of The Blessing of a Skinned Knee

"An arsenal of strategies to respond to your daughter's ever-changing brain, feelings, and choices, Untangled will become your dog-eared travel guide to the mysterious world of teenage girls."—Rachel Simmons, author of Odd Girl Out

"So chock-full of practical wisdom that I read it straight through twice, then recommended it to every person I know who has a daughter. This book will, no question, make you a better—and a saner—parent of your adolescent girl."—Peggy Orenstein, author of Girls and Sex

"There are books about teenagers that are smart. And there are books about teenagers that are practical. Lisa Damour, thankfully, provides us with one that is both. With palpable empathy and understanding for adolescent girls and their families, Damour equips parents with a flexible blueprint for anticipating challenges and encouraging growth in their daughters. If you have a daughter (or were a daughter!), Untangled is mandatory reading."—Madeline Levine, Ph.D., author of The Price of Privilege