Baby Feminists (Board book)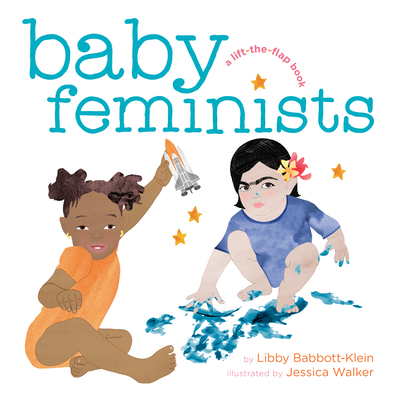 Description
---
Before Ruth Bader Ginsburg, Mae Jemison, Frida Kahlo, and others were change-making feminists, they were . . . babies!

What do Ruth Bader Ginsburg, Mae Jemison, Frida Kahlo, Barack and Michelle Obama, Gloria Steinem, Dorothy Pitman Hughes, Billie Jean King, Yoko Ono, and Malala Yousafzai have in common? They're all feminists-- and they were all once babies! This irresistible and timely 7" x 7" board book invites you to lift the flap and discover what your favorite feminist icons might have looked like as babies and toddlers. With an inspiring message that any baby can grow up to make the world a better place for all genders, Baby Feminists makes the perfect gift for baby showers, baby-naming ceremonies, birthdays, holidays, and more.
About the Author
---
Libby Babbott-Klein is a producer and creative director with a focus on activist and political content. She ran the video department for Al Gore's Alliance for Climate Protection, launched a feminist jewelry line (Libby B.K.), and for over a decade she has been creating content that is rooted in social change and entertainment. Follow her on Twitter and Instagram @libby_bk.

Jessica Walker is a multidisciplinary artist, illustrator, filmmaker, and educator. She is an assistant professor of fine arts at Parsons and has exhibited films, books, and 2D media in solo and group shows in New York, Los Angeles, San Francisco, Boston, and Australia. Her work is housed in the permanent collections at the San Francisco Museum of Modern Art Research Library, Yale University Haas Family Arts Library, and the University of Washington Art Library.
Praise For…
---
Named one of the 10 Best Children's Books of 2018 by Smithsonian Magazine

"YOUR KID WILL LOVE THIS BOOK… It's interactive, beautiful, and meaningful." —Olivia Wilde, Actor and Activist 

"If I were a mother raising children now, Baby Feminists would be right there on my children's shelf next to Goodnight Moon." —The Chicago Tribune

"A powerful message" —Santa Barbara News Press

"Timely . . . the predictable formula and interactive element provide a playful hook for future feminists." —Publishers Weekly

"Baby Feminists brilliantly introduces kids to icons like Mae Jemison & RBG…a brilliant and beautiful way for parents to introduce [little ones] to some of the most inspiring, trailblazing female change-makers of our time." —Parents.com

"Timely and empowering, and the watercolor illustrations are delightful for kids and parents alike." —Feminist Wednesday

"The book all activist babies and parents need." —Ladydeelg

"A balm for your feminist rage." —Romper