The Tree House That Jack Built (Hardcover)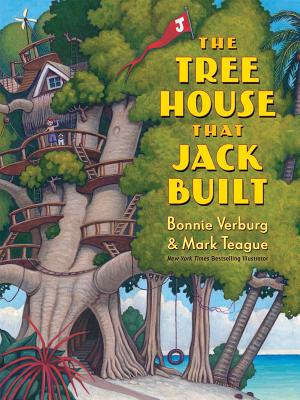 Description
---
Best-selling illustrator Mark Teague brings Bonnie Verburg's irresistable rhyming text that is brimming with animals and action to vivid life!Here is the boy up in the treewhere he built a house overlooking the sea.Yes! This is the tree house that Jack built!With ladders, swings, turrets, and elaborate pulley systems everywhere-- animals chase one another over, under, around, and through.And then--the bell rings.Where are all the animals going?Readers will pore over every detail of Mark Teague's spellbinding pictures.And Bonnie Verburg's irresistible rhyming text leads readers to a soothing end of a wondrous dayin the most exciting tree house ever!
About the Author
---
Bonnie Ingber Verburg has been editing books for children and adults for nearly three decades. She and her son live in Southern California with their two dogs, three parrots, a cat, a king snake, a leopard gecko, and a fish named Huck Fin.
Mark Teague is the internationally bestselling illustrator (and author) of more than 50 books for children. His numerous awards and honors include the Book Sense Book of the Year Award and the Christopher Medal. He has illustrated 12 full-size books and 11 board books in the widely successful How Do Dinosaurs...? series. He is the author of the popular Dear Mrs. LaRue, Firehouse!, and Jack and the Beanstalk and the French Fries. He lives in New York State.
Praise For…
---
Praise for THE KISS BOXAmazon.com Book of the YearAn Oppenheim Toy Portfolio Gold Award Winner"Debut picture-book author Verburg structures the story, inspired by her personal experience, with a steady, soothing pace. Cole complements the language beautifully with watercolor and colored-pencil illustrations evoking the classic joys of childhood. . . . Similar in subject matter to Audrey Penn's THE KISSING HAND, illustrated by Ruth E. Harper and Nancy M. Leak (1993), but a whole lot more artful, this fresh take will motivate younger children to create boxes of their own."--KIRKUS REVIEWS"Verburg handles her emotionally freighted material (based on personal experience, according to the endnote) with a light, patient touch, giving Little Bear's qualms their full due before introducing his solution."--PUBLISHERS WEEKLYPraise for the How Do Dinosaurs booksHOW DO DINOSAURS SAY GOOD NIGHT?An ALA Notable BookA SCHOOL LIBRARY JOURNAL Best Book of the YearA BOOKLIST Editor's ChoiceA NEW YORK TIMES, PUBLISHERS WEEKLY, and BOOKSENSE bestseller."A delight from start to finish; better buy more than one."--BOOKLISTHOW DO DINOSAURS GET WELL SOON? A Bank Street College of Education Best Book of the YearA Parent's Choice Award winner* "An excellent choice for story hours."--BOOKLIST, starred review* "The perfect prescription for the crankily bedridden."--KIRKUS REVIEWS, starred reviewHOW DO DINOSAURS SAY I LOVE YOU?A Parent's Choice Award winner"Kids should relate to the dinosaurs' mood swings and take heart in the notion that love conquers all."--PUBLISHERS WEEKLYHOW DO DINOSAURS SAY MERRY CHRISTMAS?"Don't pass up this exuberant guide to achieving yuletide harmony."--SCHOOL LIBRARY JOURNALHOW DO DINOSAURS SAY HAPPY CHANUKAH?"Yolen's characteristically wry verse is flawless in its rhyme and rhythm, and . . . the art's buttoned-up 1950s fashions and furnishings provide a comical visual contrast to the outlandish, brightly colored dinosaurs."--PUBLISHERS WEEKLY