The Other Side (Hardcover)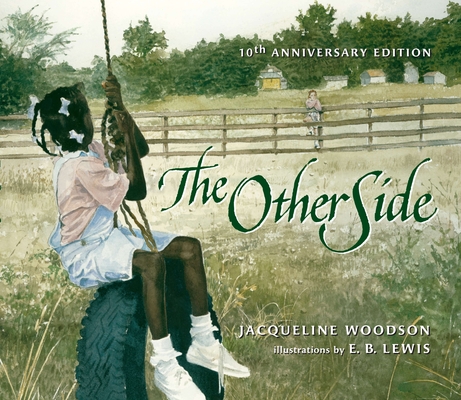 Description
---
Jacqueline Woodson is the 2018-2019 National Ambassador for Young People's Literature

Clover's mom says it isn't safe to cross the fence that segregates their African-American side of town from the white side where Anna lives. But the two girls strike up a friendship, and get around the grown-ups' rules by sitting on top of the fence together.

With the addition of a brand-new author's note, this special edition celebrates the tenth anniversary of this classic book. As always, Woodson moves readers with her lyrical narrative, and E. B. Lewis's amazing talent shines in his gorgeous watercolor illustrations.
About the Author
---
Jacqueline Woodson (www.jacquelinewoodson.com) is the recipient of a 2023 Guggenheim Foundation Fellowship, a 2020 MacArthur Fellowship, the 2020 Hans Christian Andersen Award, the 2018 Astrid Lindgren Memorial Award, and the 2018 Children's Literature Legacy Award. She was the 2018–2019 National Ambassador for Young People's Literature, and in 2015, she was named the Young People's Poet Laureate by the Poetry Foundation. She received the 2014 National Book Award for her New York Times bestselling memoir Brown Girl Dreaming, which was also a recipient of the Coretta Scott King Award, a Newbery Honor, the NAACP Image Award, and a Sibert Honor. She wrote the adult books Red at the Bone, a New York Times bestseller, and Another Brooklyn, a 2016 National Book Award finalist. Born in Columbus, Ohio, Jacqueline grew up in Greenville, South Carolina, and Brooklyn, New York, and graduated from college with a B.A. in English. She is the author of dozens of award-winning books for young adults, middle graders, and children; among her many accolades, she is a four-time Newbery Honor winner, a four-time National Book Award finalist, and a three-time Coretta Scott King Award winner. Her books include Coretta Scott King Award winner Before the Ever After; New York Times bestsellers The Day You Begin and Harbor Me; The Other Side, Each Kindness, Caldecott Honor book Coming On Home Soon; Newbery Honor winners Feathers, Show Way, and After Tupac and D Foster; and Miracle's Boys, which received the LA Times Book Prize and the Coretta Scott King Award. Jacqueline is also a recipient of the Margaret A. Edwards Award for lifetime achievement for her contributions to young adult literature and a two-time winner of the Jane Addams Children's Book Award. She lives with her family in Brooklyn, New York.

E.B. Lewis was born on December 16, 1956, in Philadelphia, PA. As early as the third grade he displayed artistic promise. Inspired by two uncles, who where artists, Lewis decided he wanted to follow in their footsteps. After finishing the sixth grade, he attended the Saturday morning Temple University School Art League run by his uncle. Under the tutelage of Clarence Wood, a noted painter in Philadelphia, Lewis began his formal art training. He remained in the program until his enrollment in the Temple University Tyler School of Art in 1975.
During his four years at Temple, Lewis majored in Graphic Design and Illustration, along with Art Education. There he discovered his medium of preference, watercolor.
Upon graduation in 1979, Lewis went directly into teaching, along with freelancing in Graphic Design. Between 1985 and 1986 he had completed a body of work which was exhibited in a downtown Philadelphia gallery. The show sold out and bought him public recognition and critical acclaim. Within two years his work was exhibited at the prestigious Rosenfeld Gallery in Philadelphia, where his shows continue to sell out.
Lewis' work is now part of major private collections and is displayed in galleries throughout the United States. Honoring Lewis, Barbara Bader's History on American Picture books will be including a description of Earl and his achievements as an artist. Currently, Earl Lewis is teaching illustration at the University of the Arts in Philadelphia and is a member of The Society of Illustrators in New York City.
E. B. Lewis is the illustrator of two Coretta Scott King Honor Books, Rows and Piles of Coins and Bat Boy and his Violin. He lives in New Jersey.
Praise For…
---
* "Manages to plumb great depths with understated simplicity+Text and art work together beautifully."—School Library Journal, starred review

"Pictures and words make strong partners here, convincingly communicating a timeless lesson."—Publishers Weekly

"Even young children will understand the fence metaphor and they will enjoy the quiet friendship drama."—Booklist