Scrum: The Art of Doing Twice the Work in Half the Time (Hardcover)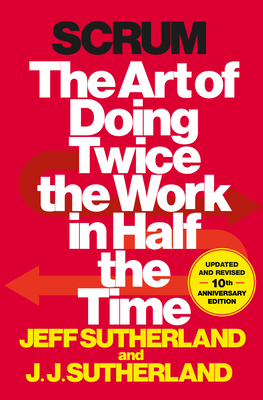 $27.00

We can order this book for you! This will delay shipping your book by 2 - 7 days.
Description
---
For those who believe that there must be a more agile and efficient way for people to get things done, here is a brilliantly discursive, thought-provoking book about the leadership and management process that is changing the way we live.
 
In the future, historians may look back on human progress and draw a sharp line designating "before Scrum" and "after Scrum." Scrum is that ground-breaking.  It already drives most of the world's top technology companies. And now it's starting to spread to every domain where leaders wrestle with complex projects.
 
If you've ever been startled by how fast the world is changing, Scrum is one of the reasons why. Productivity gains of as much as 1200% have been recorded, and there's no more lucid – or compelling – explainer of Scrum and its bright promise than Jeff Sutherland, the man who put together the first Scrum team more than twenty years ago.
 
The thorny problem Jeff began tackling back then boils down to this: people are spectacularly bad at doing things with agility and efficiency. Best laid plans go up in smoke. Teams often work at cross purposes to each other. And when the pressure rises, unhappiness soars. Drawing on his experience as a West Point-educated fighter pilot, biometrics expert, early innovator of ATM technology, and V.P. of engineering or CTO at eleven different technology companies, Jeff began challenging those dysfunctional realities, looking  for solutions that would have global impact.
 
In this book you'll journey to Scrum's front lines where Jeff's system of deep accountability, team interaction, and constant iterative improvement is, among other feats, bringing the FBI into the 21st century, perfecting the design of an affordable 140 mile per hour/100 mile per gallon car, helping NPR report fast-moving action in the Middle East, changing the way pharmacists interact with patients, reducing poverty in the Third World, and even helping people plan their weddings and accomplish weekend chores. 
 
Woven with insights from martial arts, judicial decision making, advanced aerial combat, robotics, and many other disciplines, Scrum is consistently riveting. But the most important reason to read this book is that it may just help you achieve what others consider unachievable – whether it be inventing a trailblazing technology, devising a new system of education, pioneering a way to feed the hungry, or, closer to home, a building a foundation for your family to thrive and prosper.
About the Author
---
Jeff Sutherland is the founder and chairman of Scrum Inc. The father of Scrum and one of the original signers of the Agile Manifesto, his work and ideas have truly changed the way the world works. He is a world-renowned thought leader, speaker, and writer on innovation, productivity, and unleashing human potential.

J. J. Sutherland is the CEO of Scrum Inc., a global leader in organizational change and Enterprise Agile Transformation, and the author of The Scrum Fieldbook: A Master Class on Accelerating Performance, Getting Results, and Defining the Future. He is also an award-winning journalist who spent years covering wars, revolutions, and uprisings for NPR in Iraq, Afghanistan, Lebanon, Syria, Egypt, and Libya.
Praise For…
---
"Reading Scrum was one of those lightbulb moments . . . everything the book was talking about. Why can we work in a crisis, but we can't work in normal business? How can I get more productivity and creativity out of everyone rather than just those few hardy souls who do the work for us all the time? It just really hit home."—Gwyn Jenkins, CB OBE ADC, Vice Chief of the Defence staff, UK Ministry of Defence, Commandant General Royal Marines

"Full of engaging stories and real-world examples. The project management method known as Scrum may be the most widely deployed productivity tool among high-tech companies. On a mission to put this tool into the hands of the broader business world for the first time, Jeff Sutherland succeeds brilliantly."—Eric Ries, New York Times bestselling author of The Lean Startup

"Engaging, persuasive and extremely practical . . . Scrum provides a simple framework for solving what seem like intractable and complicated work problems. It's hard to make forward progress when you can't see your impediments clearly. Sutherland offers a lens to remedy that. Amazingly, this book will not only make your life at work and home easier, but also, better and happier."—Shawn Achor, New York Times bestselling author of Before Happiness and The Happiness Advantage

"This book contains immense practical value that could be transformative for your company. If you have a project that requires people to accomplish, your first act should be to read and be guided by Scrum."—Stephen Lundin, New York Times bestselling author of Fish: A Remarkable Way to Boost Morale and Improve Performance

"Scrum is mandatory reading for any leader, whether they're leading troops on the battlefield or in the marketplace. The challenges of today's world don't permit the luxury of slow, inefficient work. Success requires tremendous speed, enormous productivity, and an unwavering commitment to achieving results."—General Barry McCaffrey

"Jeff Sutherland has written the essence of Scrum for the masses. This book elevates Scrum from a fix-it tool to a way of life."—Hirotaka Takeuchi, Professor of Management Practice, Harvard Business School

"Jeff Sutherland's book masterfully speaks truth to the political complexities that easily stand in the way of getting a lot of work done in the least amount of time. The busy professionals who'll likely be drawn to this book will find not only an effective manual for getting things done but, also, a how-to guide for living a meaningful life."—John Maeda, Design Partner, Kleiner Perkins Caufield & Byers

"This extraordinary book shows a new way to simplify your life and work, increase your focus, and get more done in less time than you ever thought possible."—Brian Tracy, bestselling author of Eat that Frog and Time Power

"Engaging . . . Sutherland tackles the problem of the perennially late, over-budget project—and actually shows how to solve it. His fascinating examples of rescued projects will change the way you think and act."—Dorothy Leonard and Walter Swap, authors of Deep Smarts: How to Cultivate and Transfer Enduring Business Wisdom