Hangman: A Novel (Hardcover)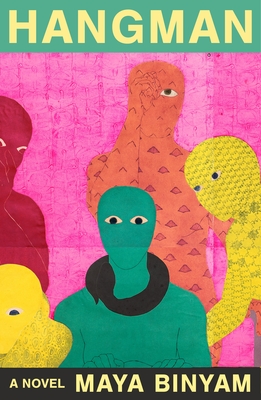 Description
---
An enthralling and original first novel about exile, diaspora, and the impossibility of Black refuge in America and beyond.

In the morning, I received a phone call and was told to board a flight. The arrangements had been made on my behalf. I packed no clothes, because my clothes had been packed for me. A car arrived to pick me up.

A man returns home to sub-Saharan Africa after twenty-six years in America. When he arrives, he finds that he doesn't recognize the country or anyone in it. Thankfully, someone recognizes him, a man who calls him brother—setting him on a quest to find his real brother, who is dying.

In Hangman, Maya Binyam tells the story of that search, and of the phantoms, guides, tricksters, bureaucrats, debtors, taxi drivers, relatives, and riddles that will lead to the truth.

This is an uncommonly assured debut: an existential journey; a tragic farce; a slapstick tragedy; and a strange, and strangely honest, story of one man's stubborn quest to find refuge—in this world and in the world that lies beyond it.
About the Author
---
Maya Binyam is a writer whose work has appeared in the Paris Review, the New Yorker, the New York Times Magazine, New York, Bookforum, Columbia Journalism Review, the New York Times Book Review, and in many other publications. She is a contributing editor at the Paris Review and has previously worked as an editor at Triple Canopy and the New Inquiry, and as a lecturer in the New School's Creative Publishing and Critical Journalism program. She lives in Los Angeles.
Praise For…
---
"Most immigrant novels of recent vintage share a single plot: a bright and hopeful person from the global south travels to a rich country in the global north and discovers that reality does not resemble their dreams . . . Binyam's tale, instead, foregrounds absence, and invites us to fill in the gaps that recur throughout the novel. In so doing, she is inviting us to question our expectations about these kinds of stories, and to contemplate the possibility that the varied lives of immigrants the world over cannot be rendered effectively in narrative cliches. This is a bold, courageous, and resonant book."
—Tope Folarin, Vulture (Best Books of 2023)

"[An] engrossing and shrewd debut novel . . . Binyam pushes into the surreal to reorient readers yet again around basic conceptions of home and family."
—Omari Weekes, Bookforum

"A hazy, dreamlike recollection of his journey (first starting on the plane, where his seatmate dies in her sleep and he has to remain next to her for the duration of the flight). Binyam's narrator, with simple yet funny narration, encounters people who tell him their stories, diving in and out between policy, culture, news, and psychology."
—Sam Franzini, Our Culture

"[Binyam] has built a brilliant illusion, a facade that holds up until the final few pages, when, with a swift and clean twist, she shatters it all and the reader is shocked out of the dreamlike atmosphere. Things fall into place. Many truths emerge . . . With paper and pen, hangman is a guessing game for two or more players. In the novel of the same name, someone's life is on the line. And Binyam keeps us guessing, and second-guessing, until the very end."
—Sana Goyal, The Guardian

"Hangman's narrator, who is unnamed, displays an unwillingness or inability to reconcile his memory with the present state of his country of birth . . . His journey chains together brutal and charming allegories that underline the farcical idiosyncrasies of life as part of a global community, of life in diaspora, jewels that eventually take the shape of a quietly powerful debut from a self-assured writer with a clear point of view."
—Stephen Patrick Bell, Chicago Review of Books

"A tragicomic masterpiece."
—JC Whittington, Politico

"[A] unique, strange trip . . . Binyam's portrait of a man in search of belonging is deeply moving."
—Sally Shivnan, Washington Independent Review of Books

"Binyam's Hangman is a testament to the unspoken effects that diaspora and history have on identity, cross-examining the meaning of possession as it pertains to the self, and what we lose or gain in pursuit of hard-earned truths."
—Vivien Lee, Document Journal

"The first sentence of Maya Binyam's recently released novel Hangman, 'In the morning, I received a phone call and was told to board a flight,' conjures a passive-voiced narrative absence deepened by her choice to leave her narrator unnamed. Yet the novel itself is anything but detached. The humanity of Binyam's protagonist . . . is all the more keenly felt for the details of his life that she leaves blank, and she weaves in more than enough prosaic depth to make a 200-page chronicle of exile, diaspora, belonging, and home-going feel urgent and emotionally resonant."
—Emma Specter, Vogue

"A slim, stark, and captivatingly enigmatic début novel . . . The expectation for an American novel about an African immigrant is that it will perform a task of translation: here is where I come from, and these are the painful circumstances under which I left. "Hangman," with its sphinxlike style, turns a mirror on these demands."
—Julian Lucas, The New Yorker

"Hangman is a ride. It's got a narrator I kept changing my mind about, shifts from thriller to farce, a full-body penny drop, and an ending that made the penny shoot back up with new meaning . . . With the lightest touch and absurdist humor, Maya traces those invisible forces that often pass for, and so create, reality: projection, denial, the shape of history, and the psychic repercussions of structural violence."
—Tavi Gevinson, Interview

"Maya Binyam's exceptional debut novel, Hangman [is] . . . a caustic rendering of immigration, diaspora and deracination . . . A marvel of compressed unease, the novel is also wildly exuberant. This is in no small part due to the tensile strength of Binyam's prose. Her style is simple and matter of fact, but full of unexpected pivots. She is also very funny. The novel is written with the kind of deadpan humor that makes you laugh even as it leaves you feeling a little queasy . . . There's dark wonder in . . . this exhilarating novel."
—Katie Kitamura, The New York Times Book Review

"Hangman is one one of those rare things in contemporary literature—a novel of ideas, in which the exploration of ethical and political questions animates and shapes the story itself . . . As it unfurls, it becomes clear that Binyam's elliptical story and style are stretching language in an attempt to depict refuge and safety for Black diasporic peoples as something that is made impossible by settler colonialism, enslavement, the international-aid industrial complex, and the drive to accumulate and hoard inordinate amounts of wealth."
—Rosemarie Ho, The Nation

"A compelling tale of homecoming, exile and grief."
—Anna Bonet, i News

"On one level, Hangman unfolds as a mystery – where's the narrator's brother; what's the radio telling us; where will the journey end? – and it keeps its cards skilfully close. You can see it being directed by David Lynch. On another level, it's an intelligent comedy of, and about, repetition . . . [Binyam] crafts her prose meticulously, and has a knack for the deadpan tone . . . A thrill."
—Cal Revely-Calder, The Telegraph (UK)

"A fantastical journey reveals a wounded heart. Making an assured debut, Binyam spins a haunting, often surreal tale . . . A savvy, wildly imaginative narrative."
—Kirkus Reviews (starred)

"[A] beguiling and dreamlike debut . . . leads to an ending that's twisty and illuminating. Along the way, the narrator has a series of . . . mordantly funny encounters that highlight themes of colonialism and cultural differences . . . This is one of those novels that demands a second reading, and is well worth the time."
—Publishers Weekly

"Hangman is a gripping story of homecoming and loss, of recuperation and letting go, all of it told in a voice that is at turns ruthlessly honest and startlingly beautiful. Maya Binyam is an immensely gifted writer and every page of this deeply moving novel offers us compelling and hard-earned truths. But what remains by the end is something that resembles a loving gesture from a long-lost relative: necessary and seismic, profound and unforgettable."
—Maaza Mengiste, author of The Shadow King

"Maya Binyam exquisitely captures the invisible: the edges of consciousness, abstract political forces, and how they act on one another. Hangman is immersive and astonishing."
—Tavi Gevinson

"Daring, intellectually rich, and unsettlingly hilarious, Hangman is the rare book agile enough to balance the surreality and painfully rigid actuality of life. We have a powerful new voice in Maya Binyam, one who knows how to make a story sing."
—Alexandra Kleeman, author of Something New Under the Sun

"A strikingly masterful debut. With a slow, sure hand, Hangman beckons you into a zone that at first seems as clear, as blank, and as eerily sunny as the pane of a window. Then it traps you there, until you notice the blots, bubbles, and fissures in the glass—and then the frame itself, then the shatter. A clean, sharp, piercing—and deeply political—novel."
—Namwali Serpell, author of The Furrows