Talk Stories (Paperback)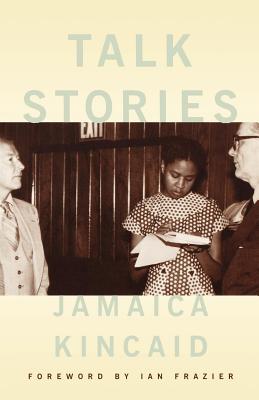 $24.00

We can order this book for you! This will delay shipping your book by 2 - 7 days.
(This book is non-returnable)
Description
---
From "The Talk of the Town," Jamaica Kincaid's first impressions of snobbish, mobbish New York

Talk Pieces is a collection of Jamaica Kincaid's original writing for the New Yorker's "Talk of the Town," composed during the time when she first came to the United States from Antigua, from 1978 to 1983. Kincaid found a unique voice, at once in sync with William Shawn's tone for the quintessential elite insider's magazine, and (though unsigned) all her own--wonderingly alive to the ironies and screwball details that characterized her adopted city. New York is a town that, in return, fast adopts those who embrace it, and in these early pieces Kincaid discovers many of its hilarious secrets and urban mannerisms. She meets Miss Jamaica, visiting from Kingston, and escorts the reader to the West Indian-American Day parade in Brooklyn; she sees Ed Koch don his "Cheshire-cat smile" and watches Tammy Wynette autograph a copy of Lattimore's Odyssey; she learns the worlds of publishing and partying, of fashion and popular music, and how to call a cauliflower a crudite.

The book also records Kincaid's development as a young writer--the newcomer who sensitively records her impressions here takes root to become one of our most respected authors.
About the Author
---
Jamaica Kincaid was born in St. John's, Antigua. Her books include At the Bottom of the River, Annie John, Lucy, The Autobiography of My Mother, My Brother, Mr. Potter, and See Now Then. She teaches at Harvard University and lives in Vermont.

Ian Frazier is the author of Travels in Siberia, Great Plains, On the Rez, Lamentations of the Father and Coyote V. Acme, among other works, all published by Farrar, Straus and Giroux. He graduated from Harvard University. A frequent contributor to The New Yorker, he lives in Montclair, New Jersey.
Praise For…
---
"I recently reread all eighty-five of Kincaid's 'Talk' stories, and I was surprised by what I found in them--surprised, delighted, and, most of all, embarassed for my younger self... It's taken me a few years to appreciate that there are times when it's enough for writing, like sleep and sex, to exist just for the pleasure it gives." —Craig Seligman, The Threepenny Review

"From the collection's first piece ... the reader is snared by the simplicity, directness and unvarnished truthfulness of formidable talent alrady realized." —Margaret Fichtner, Miami Herald

"Fresh, risky, improvisational and hard-to-categorize writing , the fruit of a remarkable understanding between a seasoned editor and a nervy new writer, is rare and precious, and best appreciated here, where each provocative essay plays against the others, no longer anonymous." —Donna Seaman, Chicago Tribune