Growing Up Global: Raising Children to Be At Home in the World (Paperback)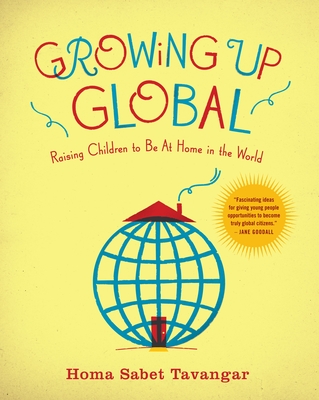 Description
---
In today's increasingly interconnected world, how do we prepare our children to succeed and to become happy, informed global citizens? A mother of three, Homa Sabet Tavangar has spent her career helping governments develop globally oriented programs and advising businesses on how to thrive abroad. In Growing Up Global, Tavangar shares with all of us her "parenting toolbox" to help give our children a vital global perspective.

Whether you're mastering a greeting in ten different languages, throwing an internationally themed birthday party, or celebrating a newfound holiday, Growing Up Global provides parents and children with a rich, exciting background for exploring and connecting with far-flung nations they may have only heard about on television. Inside you'll discover

• fun activities, games, and suggestions for movies, music, books, magazines, service activities, and websites for expanding your family's worldview
• simple explanations that will help your children grasp the diversity of world faiths
• creative ways to gain geography literacy
• handy lists of celebrations and customs that offer a fascinating look at how people from different cultures around the world live everyday life

Growing Up Global is a book that parents, grandparents, and teachers can turn to again and again for inspiration and motivation as they strive to open the minds of children everywhere.
About the Author
---
Homa Tavangar has 20 years' experience working with governments, businesses, international organizations and non-profit agencies in global competitiveness, organizational and business development and cross-cultural issues.
She has lived in the Middle East, East and West Africa, South America, and throughout the United States. In addition to English, she speaks Persian (Farsi), Spanish, Portuguese, and rudimentary French and Swahili. She holds undergraduate and graduate degrees in International Economics, and International Development and Public Affairs from UCLA and Princeton University. Her religious heritage includes four of the world's major faiths, and she has family living on every continent.
Homa has been researching Growing Up Global since spending the first anniversary of 9/11/01 in China, while she served as Special Advisor on International Business Development for the City of Philadelphia. From January through April 2007 she lived in West Africa with her children, where they spent a school term and she blogged their experience for the Philadelphia Inquirer. She is married and the mother of three girls, ranging in age from 5 to 15. She is active with their public schools in suburban Philadelphia and serves on the Boards of several international organizations. This is her first book.
Praise For…
---
"Growing up Global offers fascinating ideas for giving young people opportunities to become truly global citizens. Learning about the customs and culture of others around the globe enriches our lives so much and can only lead to better understanding and cooperation for generations to come."—Jane Goodall PhD, DBE, Founder, The Jane Goodall Institute & UN Messenger of Peace

"Growing up Global is for every family on the planet, bar none. Tavangar's stellar ideas for deepening children's understanding of—and comfort with—every culture is a must in today's increasingly borderless world. But Tavangar's tips aren't just about imbuing children with the multicultural competence they need to succeed in today's cultural blender; unwittingly or not, she's also provided a road map for connecting more deeply and joyfully with our kids as we uncover the world's smorgasbord of art, movies, books, games, sports, foods, religions (and dispel antiquated stereotypes) on our journey to discovery. This book is a two for one.—Donna Jackson Nakazawa, author, Does Anybody Else Look Like Me: A Parent's Guide to Raising Multiracial Children

"Growing Up Global is an intelligent, thoughtful guide for developing a global orientation in children. The chapter on school experiences around the world was particularly relevant, and I found the service and giving chapter inspirational. This is an encouraging book for a multicultural world!"—Terri Morrison, co-author, Kiss, Bow or Shake Hands: The Bestselling Guide to Doing Business in More Than Sixty Countries


"The single greatest gift you can give your child today is to raise them with a global mind-set. If you read only one book this year about child rearing, make it Growing Up Global. It is relevant for today's families, and long overdue." —Perry Yeatman, author of Get Ahead by Going Abroad