The Invisible Leash: An Invisible String Story About the Loss of a Pet (The Invisible String #3) (Hardcover)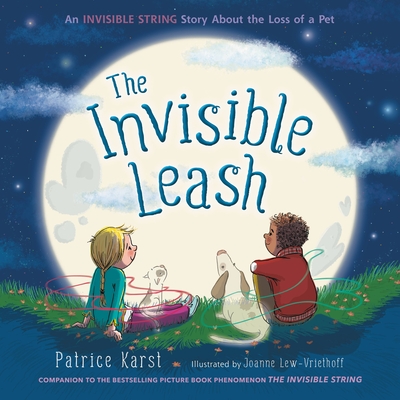 $18.99

We can order this book for you! This will delay shipping your book by 2 - 7 days.
Other Books in Series
This is book number 3 in the The Invisible String series.
Description
---
From the author of the million-copy-bestselling picture book phenomenon The Invisible String comes a moving companion title about coping with grief when a pet dies.

"When our pets aren't with us anymore, an Invisible Leash connects our hearts to each other. Forever." That's what Zack's friend Emily tells him after his dog dies. Zack doesn't believe it. He only believes in what he can see. But on an enlightening journey through their neighborhood—and through his grief—he comes to feel the comforting tug of the Invisible Leash. And it feels like love.

Accompanied by tender, uplifting art by Joanne Lew-Vriethoff, bestselling author Patrice Karst's gentle story uses the same bonding technique from her classic book The Invisible String to help readers through the experience of the loss of a beloved animal.

Read all the books in The Invisible String series:
The Invisible String Backpack: Your very own tool kit for school—and life!
The Invisible String Workbook: Creative Activities to Comfort, Calm, and Connect
The Invisible Leash: An Invisible String Story About the Loss of a Pet​
The Invisible Web: An Invisible String Story Celebrating Love and Universal Connection
You Are Never Alone: An Invisible String Lullaby
About the Author
---
Patrice Karst is the bestselling author of The Invisible String, The Invisible Leash, The Invisible Web, You Are Never Alone: An Invisible String Lullaby, and co-author of The Invisible String Workbook. She has also written The Smile That Went Around the World. Patrice is passionate about spreading her message of love across the planet. Born in London, England, she now lives in Southern California, and is the mother of one grown son. She invites you to visit her online at patricekarst.com.

Joanne Lew-Vriethoff is the acclaimed illustrator of many children's books, including the new edition of The Invisible String, The Invisible Leash, The Invisible Web, You Are Never Alone: An Invisible String Lullaby, and the Invisible String Workbook, as well as Stacy McAnulty's Beautiful and Brave. Born in Malaysia, she grew up in Los Angeles, studied at the ArtCenter College of Design in Pasadena, and now lives in Amsterdam. Her website is joannelewvriethoff.com.
Praise For…
---
"I absolutely love The Invisible Leash. I am a Certified Hospice and Palliative Care Veterinarian, [and this book] helps children cope with the loss of a pet by focusing on love and connection."
—
Dr. Erica Dickie, Black Creek Mobile Veterinary Services
"A wonderful way for children of all ages to conceptualize where their pets are and take comfort in the idea that they are still very attached and will be for life."
—
Rita Drake, Veterinary Aftercare Services
"A unique way of helping readers cope. I highly recommend this book be available in shelters, pet stores, veterinary clinics, and grief counseling meetings."
—
Stacy Dietrich, RVT, BOE, veterinarian
"A truly wondrous book for all ages [that offers] much love and reassurance that...the love between yourself and your animals creates a bond that can never be broken."
—
Carrie Ball, Pet Bereavement Support Network
"Will likely appeal to the pet-owning fans of The Invisible String and will find a place in collections in need of pet loss books."—
School Library Journal
"An empathy-driven resource for children reckoning with the loss of a pet."—
Publishers Weekly
"The stages of grief are clearly written and illustrated...helpful for grieving children."—
Kirkus Reviews
Praise for
The Invisible String
:
Over 1.5 MILLION copies sold!
A
USA Today
Bestseller
An Amazon Bestseller
A
Publishers Weekly
Bestseller
"A wonderful storybook for children experiencing separation anxiety." —
Today's Parent
"It's the most beautiful, beautiful book, and it actually makes me cry every time." —
Sara Haines, ABC's
The View
"Unravel some of the complexities of grief for young children with this bestselling book." —
CNN Underscored
"Delivers a particularly compelling message in today's uncertain times that though we may be separated from the ones we care for, love is the unending connection that binds us all." —
The American Academy of Pediatrics
"A wonderful way of describing that while someone dies, love never dies." —
The Washington Post
"This book is a beautiful way to begin to try, as parents, to instill in children the impenetrable power of the heart, the energy of love, and the flow that can be felt from the grace in every moment." —
Tony Robbins