Ethera Grave (The Graven #3) (Paperback)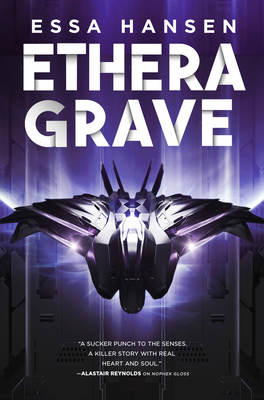 $18.99

Coming Soon - Available for Pre-Order Now
Other Books in Series
This is book number 3 in the The Graven series.
Description
---
In the final book of this dark, dangerous, roller coaster of a space opera trilogy, bold new voice Essa Hansen will stretch the limits of your imagination in this mind-bending adventure perfect for fans of The Expanse and A Long Way to a Small Angry Planet.

Caiden has finally been reunited with his sister Leta after ten years on the run with his unique starship and managed to convince his longtime enemy—Threi—to join his side. But the multiverse isn't safe yet. Threi's sister is still the most powerful being in existence. And she still wants to collapse their beautiful, diverse, constellation of multiverses down to one.
 
Now, Caiden and his makeshift family carry the fate of all the worlds in their hands.

The Graven Trilogy
Nophek Gloss
Azura Ghost
Ethera Grave
About the Author
---
Essa Hansen is an author, swordswoman, and falconer. She is a sound designer for science fiction and fantasy films at Skywalker Sound, with credits in movies such as Dr. Strange and Avengers: Endgame.
Praise For…
---
"Hansen doesn't just build worlds, she engineers fresh universes, weaves depth into incredibly charismatic characters, and balances kick-ass combat scenes with galactic stakes. Ethera Grave pulls it all together and absolutely nails the landing. It'll tear your heart up in all the best ways." —Shelly Campbell, author of Under the Lesser Moon

"Some writers have a big finish in which worlds collide, but for Essa Hansen, nothing short of a final confrontation in which universes collide will be fitting for closing the tale of Caiden, Leta, Threi, and Abriss. It's just as mind-bending as you'd think when the very fabric of existence unravels in this last battle of powerful forces and the wills behind them."—Wayne Santos, author of The Chimera Code

Praise for The Graven: 

"An intriguing bubble universe setting, flawed characters, and advanced technology from a compelling sf story that will draw in and hold readers until the very last page ... Hansen's marvelous debut is a fast-paced, action-filled ride through the multiverse, introducing a complex found family of gender- and neurodiverse characters." ―Library Journal on Nophek Gloss

"Gripping and inventive, Nophek Gloss will delight even as it breaks your heart."―Megan E. O'Keefe, author of Velocity Weapon 

"Essa Hansen's debut is an intoxicating and thrilling science fiction read...Hansen creates a vivid, colorful setting that's full of strange tech, fantastic aliens, and reality-warping spaceships. It's mind-bending fun." ―Apple Books, "10 Amazing Debuts"

"The Graven Trilogy kicks off with heart-rending loss, traumatic memories, fast-paced action, and stunning scientific concepts, with mercantile and political intrigues spanning manifold universes. Fans of Alastair Reynolds and Megan E. O'Keefe will want to try this." ―Booklist on Nophek Gloss

"Intriguing metaphysical concepts, more fast-paced action, and a climactic revelation regarding Caiden's mysterious genetic heritage will have fans eager for the next book in the Graven series." ―Booklist on Azura Ghost (starred review)

"Essa Hansen is one of the most imaginative authors in science fiction today, and in Azura Ghost she delivers a thrill ride of a story." ―Michael Mammay, author of Planetside 

"Unpredictable and strikingly unique, Azura Ghost is science fiction without any limits to its imagination. Genre-breaking brilliance!" ―David Dalglish, USA Today bestselling author