Nophek Gloss (The Graven #1) (Paperback)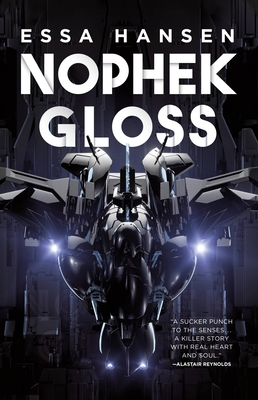 $16.99

We can order this book for you! This will delay shipping your book by 2 - 7 days.
Other Books in Series
This is book number 1 in the The Graven series.
Description
---
In this dark, dangerous, roller coaster of a debut, a young man sets out on a single-minded quest for revenge across a breathtaking multiverse filled with aliens, mind-bending tech, and ships beyond his wildest imagining. Essa Hansen's is a bold new voice for the next generation of science fiction readers. Caiden's planet is destroyed. His family gone. And, his only hope for survival is a crew of misfit aliens and a mysterious ship that seems to have a soul and a universe of its own. Together they will show him that the universe is much bigger, much more advanced, and much more mysterious than Caiden had ever imagined. But the universe hides dangers as well, and soon Caiden has his own plans. He vows to do anything it takes to get revenge on the slavers who murdered his people and took away his home. To destroy their regime, he must infiltrate and dismantle them from the inside, or die trying.
Finalist for r/Fantasy Stabby Awards for Best Debut!

One of the most highly praised science fiction debuts of the year: 

"A killer story with real heart and soul."-Alastair Reynolds
"A fast-paced, action-filled ride through the multiverse" - Library Journal (starred)
"A strong, rollercoaster of a debut." – Gareth L Powell
"Gripping and inventive" – Megan E O'Keefe
"Mesmerizing" – Fantasy Book Critic
"Reads like a Becky Chambers novel crossed with Firefly"—Michael Mammay


The Graven Trilogy
Nophek Gloss
Azura Ghost
About the Author
---
Essa Hansen is an author, swordswoman, and falconer. She is a sound designer for science fiction and fantasy films at Skywalker Sound, with credits in movies such as Dr. Strange and Avengers: Endgame.
Praise For…
---
"An intriguing bubble universe setting, flawed characters, and advanced technology from a compelling sf story that will draw in and hold readers until the very last page ... Hansen's marvelous debut is a fast-paced, action-filled ride through the multiverse, introducing a complex found family of gender- and neurodiverse characters."—
Library Journal
"Essa Hansen's debut is an intoxicating and thrilling science fiction read...Hansen creates a vivid, colorful setting that's full of strange tech, fantastic aliens, and reality-warping spaceships. It's mind-bending fun."—
Apple Books, "10 Amazing Debuts"
"The Graven Trilogy kicks off with heart-rending loss, traumatic memories, fast-paced action, and stunning scientific concepts, with mercantile and political intrigues spanning manifold universes. Fans of Alastair Reynolds and Megan E. O'Keefe will want to try this."
—
Booklist
"Space opera fans will be eager for the next installment.—
Publishers Weekly
"A strong, rollercoaster of a debut."—
Gareth L. Powell, author of The Embers of War
"Gripping and inventive,
Nophek Gloss
will delight even as it breaks your heart."—
Megan E. O'Keefe, author of Velocity Weapon
"Hansen's world is a weird, trippy, dreamy delight, bursting with strange characters and powerful SF action."—
Rob Boffard, author of Outer Earth
"An exceptional debut-one of the best I've read in years. It reminds me of the most imaginative work of C. J. Cherryh. The crew reads like a Becky Chambers novel crossed with Firefly, filled with complex relationships and the love and pain of found family. With her first novel, Essa Hansen establishes herself as a force in the world of science fiction."—
Michael Mammay, author of Planetside
"More than just a simple adventure story, 
Nophek Gloss
 has an emotional arc that will stay with you long after the last page."—
Portalist
"
Nophek Gloss
 is an absolutely mesmerizing piece of world-building ... a fantastic adventure and worth a read for those who love big sci-fi worlds."
 —
Fantasy Book Critic
"
Nophek Gloss
is a thundering debut; it grabs the reader and tows you into unchartered territory."—
Grimdark Magazine"Nophek Gloss
is one of the most vividly imaginative science fiction books I've ever read...If you love all the original, advanced technology you could possibly handle, a lovable, intriguing main cast with a lot of history and scars, and a fast-paced plot, then this is one you might want to pick up."—
FanFi Addict