The Rise and Fall of the EAST: How Exams, Autocracy, Stability, and Technology Brought China Success, and Why They Might Lead to Its Decline (Hardcover)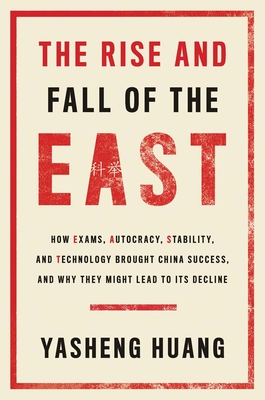 $35.00

We can order this book for you! This will delay shipping your book by 2 - 7 days.
Description
---
The long history of China's relationship between stability, diversity, and prosperity, and how its current leadership threatens this delicate balance
 
Chinese society has been shaped by the interplay of the EAST—exams, autocracy, stability, and technology—from ancient times through the present. Beginning with the Sui dynasty's introduction of the civil service exam, known as Keju, in 587 CE—and continuing through the personnel management system used by the Chinese Communist Party (CCP)—Chinese autocracies have developed exceptional tools for homogenizing ideas, norms, and practices. But this uniformity came with a huge downside: stifled creativity.
 
Yasheng Huang shows how China transitioned from dynamism to extreme stagnation after the Keju was instituted. China's most prosperous periods, such as during the Tang dynasty (618–907) and under the reformist CCP, occurred when its emphasis on scale (the size of bureaucracy) was balanced with scope (diversity of ideas).
 
Considering China's remarkable success over the past half-century, Huang sees signs of danger in the political and economic reversals under Xi Jinping. The CCP has again vaulted conformity above new ideas, reverting to the Keju model that eventually led to technological decline. It is a lesson from China's own history, Huang argues, that Chinese leaders would be wise to take seriously.
About the Author
---
Yasheng Huang is the Epoch Foundation Professor of Global Economics and Management at the MIT Sloan School of Management. His books include Capitalism with Chinese Characteristics: Entrepreneurship and the State. He lives in Brookline, MA.
Praise For…
---
"Riveting."—Tunku Varadarajan, Wall Street Journal

"Comprehensive and scholarly as one might expect from an economics professor at MIT. . . . [Huang's] wry dedication—'to the autocrats of the world. They give us so much to write about'—says it all."—James Crabtree, Financial Times

"The rigours of imperial China's civil-service examination system . . . are described in a new book by Yasheng Huang. . . . Arguing that the exams stifled innovation in ancient times, Professor Huang sees lessons for Xi Jinping's China."—The Economist

"One of those lamentably rare books that ask the really big questions, and that offer pretty bold original ideas about how and why China is the way that it is."—Kaiser Kuo, China Project

"This is by far the best book on Chinese bureaucracy I have read, and probably one of the best books on China period."—Tyler Cowen, Marginal Revolution (blog)

"An engaging and informative book that blends historical resonance with modern China, and highlights the more alarming idiosyncrasies and risks of Xi's China."—George Magnus, author of Red Flags: Why Xi's China Is in Jeopardy

"An extraordinary, innovative argument for a key question: Why has China's autocratic system proved so sustainable? Paying particular attention to China's traditional examination system, Huang provides a powerful new explanation."—Rana Mitter, author of China's Good War: How World War II Is Shaping a New Nationalism