Einstein: The Man, the Genius, and the Theory of Relativity (Great Thinkers) (Hardcover)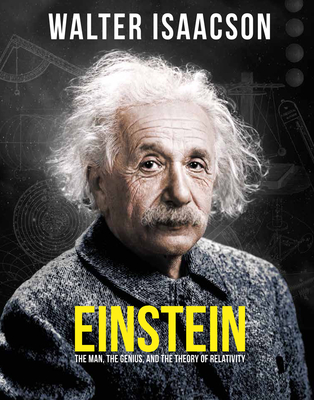 Description
---
Written by bestselling author Walter Isaacson, Einsten is an introduction to, and celebration of, the scientist whose name is synonymous with ingenuity and intelligence.
From his remarkable theory of relativity and the famous equation E=mc2 to his concept of a unified field theory, no one has contributed as much to science in the last century as Albert Einstein. Drawing on new research and reproducing documents only recently made available, Einstein reveals the process behind the work and the man behind the science: his early years and experiments in Germany, his marriages and children, his role in the development of the atomic bomb, and his involvement with civil rights groups in the United States.
Now in a new format
About the Author
---
Walter Isaacson is the President and CEO of the Aspen Institute, an international nonprofit organization designed to promote enlightened leadership and dialogue in contemporary issues. He was the Chairman and CEO of the international news organization CNN and managing editor of Time. Isaacson wrote the acclaimed Einstein: His Life and Universe (Simon & Schuster), as well as Benjamin Franklin: An American Life and Steve Jobs: The Exclusive Biography (both by Simon & Schuster). His work has been published in the USA, the UK, Canada, Germany, France, Japan, and China.