The Curse of the Good Girl: Raising Authentic Girls with Courage and Confidence (Paperback)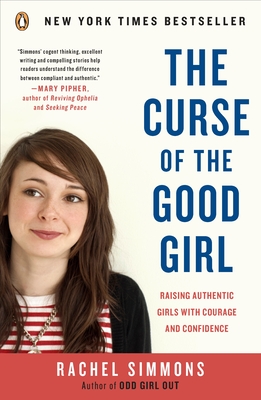 Description
---
Bestselling author of Odd Girl Out, Rachel Simmons exposes the myth of the Good Girl, freeing girls from its impossible standards and encouraging them to embrace their real selves

In The Curse of the Good Girl, bestselling author Rachel Simmons argues that in lionizing the Good Girl we are teaching girls to embrace a version of selfhood that sharply curtails their power and potential. Unerringly nice, polite, modest, and selfless, the Good Girl is a paradigm so narrowly defined that it's unachievable. When girls inevitably fail to live up-experiencing conflicts with peers, making mistakes in the classroom or on the playing field-they are paralyzed by self-criticism, stunting the growth of vital skills and habits. Simmons traces the poisonous impact of Good Girl pressure on development and provides a strategy to reverse the tide. At once expository and prescriptive, The Curse of the Good Girl is a call to arms from a new front in female empowerment.

Looking to the stories shared by the women and girls who attend her workshops, Simmons shows that Good Girl pressure from parents, teachers, coaches, media, and peers erects a psychological glass ceiling that begins to enforce its confines in girlhood and extends across the female lifespan. The curse of the Good Girl erodes girls' ability to know, express, and manage a complete range of feelings. It expects girls to be selfless, limiting the expression of their needs. It requires modesty, depriving the permission to articulate their strengths and goals. It diminishes assertive body language, quieting voices and weakening handshakes. It touches all areas of girls' lives and follows many into adulthood, limiting their personal and professional potential.

Since the popularization of the Ophelia phenomenon, we have lamented the loss of self-esteem in adolescent girls, recognizing that while the doors of opportunity are open to twenty-first-century American girls, many lack the confidence to walk through them. In The Curse of the Good Girl, Simmons provides a catalog of tangible lessons in bolstering the self and silencing the curse of the Good Girl. At the core of Simmons's radical argument is her belief that the most critical freedom we can win for our daughters is the liberty not only to listen to their inner voice but also to act on it.
About the Author
---
Rachel Simmons is the author of The New York Times bestseller Odd Girl Out: The Hidden Culture of Aggression in Girls, the first book to explore the phenomenon of bullying among girls. Simmons works internationally with girls, parents, and teachers to develop strategies to address bullying and to empower girls. A graduate of Vassar College in 1998, Simmons won a Rhodes scholarship and attended Oxford University, where she began studying female aggression. Simmons is the founding director of the Girls' Leadership Institute, a summer program for middle and high schoolgirls, and currently serves as a consultant to schools and organizations around the world.
Praise For…
---
"An invaluable guide to girls and those who want to help them."—Mary Pipher, author of Reviving Ophelia
 
"Every mother who wants to raise an authentic, courageous girl will be grateful for the clear-headed guidance that Ms. Simmons provides.  When parents ask me for a great book about girl psychology, I am going to recommend The Curse of the Good Girl."—Michael Thompson, Ph.D., coauthor of Raising Cain: Protecting the Emotional Life of Boys
 
"If you are a parent or an educator and want to know what stops girls from reaching their full potential and what you can do to make sure she does, please read The Curse of the Good Girl. My deepest hope is that girls realize the importance of what Rachel is saying to them and incorporate it into all of their relationships." —Rosalind Wiseman, author of Queen Bees and Wannabees
 
"Simmons is at her best when she helps girls understand that until they know and risk what they really feel and think, they cannot be true leaders."—Lyn Mikel Brown, author of Packaging Girlhood: Rescuing Our Daughters from Marketer's Schemes
 
"Simmons' trenchant cultural critique becomes an essential primer for raising and nurturing healthy resilient girls. An indispensible read for parents, educators—indeed, anyone who cares about young girls!."—Michael Kimmel, Professor of Sociology, SUNY Stony Brook author of Guyland: The Perilous World Where Boys Become Men
 
"Rachel Simmons has perceptively laid out the current state of teenage girls in American society. As exciting as their futures can be, some of the same challenges that have held back women's success are still to be found in this newest generation of young achievers. The question is: who will reverse the trend permanently so young women can not only aspire to the same goals as their male counterparts, but will not get shut down along the way by either girls or boys."—Cathie Black, President of Hearst Magazines and author of Basic Black: The Essential Guide for Getting Ahead at Work (and in Life)
 
"An amazing array of clear practical strategies for all adults dedicated to raising savvy assertive girls. A must read—again and again—for everyone who cares about girls." —Dr. Catherine Steiner-Adair, author of The Big Disconnect

"If you care about girls, you will want them to be influenced by the ideas and practices in this outstanding book." —Maurice J. Elias, Ph.D. Professor of Psychology, Rutgers University and author, Emotionally Intelligent Parenting