Anon Pls.: A Novel (Hardcover)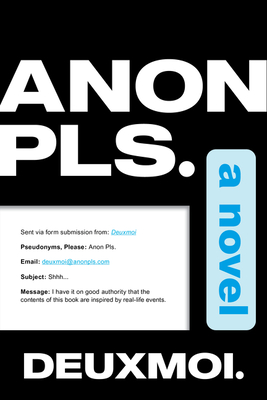 $27.99

We can order this book for you! This will delay shipping your book by 2 - 7 days.
Description
---
Called One of the Best Books of the Year by NPR
"Dazzling, propulsive, and delightfully juicy, Anon Pls. is the digital age's love letter to The Devil Wears Prada. Sexy, suspenseful, and so good you won't want to put it down—not even to check on the latest stories in Deuxmoi's feed. What an incredible debut." — Christina Lauren, New York Times bestselling author of The Unhoneymooners
From the creator of @Deuxmoi, the popular—and infamous—celebrity gossip Instagram, comes a fun and charming debut novel about a stylist assistant whose drunken decision to turn her Instagram into a celeb gossip account turns her life completely upside down.  
When Cricket Lopez, assistant to one of the most notorious celebrity stylists, revamps her old fashion Instagram account and turns it into a source for celebrity gossip on a drunken whim, she never thinks it will become anything. It's just a way to blow off steam after a terrible, terrible day at work where her nightmarish boss screams at her and blames her for some 18-year-old influencer's screw-up. But when the account grows overnight and, even wilder, when she starts getting gossip from fans and insiders —juicy gossip—she has to face facts: her Instagram is now famous. She is now famous.
Though no one knows that she is behind the account, its newfound success quickly wreaks havoc on her real life. Her boss wonders why she's disappearing on the job, her friends are increasingly irritated by her dedication to the account, and she has celebrities, investors, and journalists approaching her nonstop. Plus, there's a steamy new love interest who she meets through her online persona—except she has no idea if she can truly trust his motives. 
As the account grows and becomes more and more influential, she has to wonder: is it—the fame, the insider access, the escape from real life—really worth losing everything she has?
About the Author
---
Deuxmoi is one of the most followed and re-shared celebrity pop culture accounts on Instagram. With a following of 1.5 million and counting, it is the Internet's foremost source for celebrity pop culture and gossip. Cowritten by Jessica Goodman, this is DeuxMoi's debut novel.
Praise For…
---
"Compulsive, propulsive, and every bit as juicy as its Instagram account." — Jenny Mollen, New York Times bestselling author of City of Likes
"Dazzling, propulsive, and delightfully juicy, Anon Pls. is the digital age's love letter to The Devil Wears Prada. Sexy, suspenseful, and so good you won't want to put it down—not even to check on the latest stories in Deuxmoi's feed. What an incredible debut." — Christina Lauren, New York Times bestselling author of The Unhoneymooners
"A sharp page-turner that's utterly of-the-moment but also a timeless story of love and self-discovery. Anon Pls is so much fun to read you won't check your phone even once!" — Jamie Brenner, bestselling author of Blush and Gilt
"Anon Pls. has better gossip than Gossip Girl. It's a wild romp through the assistant trenches, a glitzy peek at the lives of the rich and famous, and a page-turning tale about what happens when one impulsive decision spirals out of control." — Hannah Orenstein, author of Meant to Be Mine
"The novel does a good job of exploring the motivations and land mines that come with running an account as popular as Deuxmoi. While holding A-list celebrities accountable is fulfilling, it's a great power that comes with great responsibility." — NPR, Books We Love
"This new novel is a juicy rendering of the life of an assistant to a high-profile celeb stylist who decides to channel her workplace rage into something very closely resembling the real life Deuxmoi."
— The Hollywood Reporter
"While we still don't know who the mysterious person behind it the iconic DexuMoi account is, we still can't help but get excited for this wild tale." — Cosmopolitan
"A spectacularly spicy read." — Popsugar
"From its creator comes a fun debut novel that promises to be… everything you might expect from DeuxMoi... Basically, if you love Gossip Girl, this one's for you." — Literary Hub
"For deuxmoi fans, this novel will be a solid extension of the brand's coming-of-age story, and they'll especially enjoy the inside jokes and liberal quotes from the real-life account, which helps create the tantalizing-yet-relatable tone. For nonfans, this autofiction is reminiscent of other of-the-moment bad-boss books like Leigh Stein's Self Care. A candid, unexpected critique of celebrity, hanger-on, and enabler culture." — Kirkus Reviews
"Written by the brains behind the real @Deuxmoi, this roman à clef and debut novel has an addictive story and strong Devil Wears Prada (2003) vibes...Peppered with news clippings, Instagram posts, and a whole bunch of brand-name dropping, Anon Pls. will appeal to readers looking for a dishy, juicy ride." — Booklist