The Power Code: More Joy. Less Ego. Maximum Impact for Women (and Everyone). (Hardcover)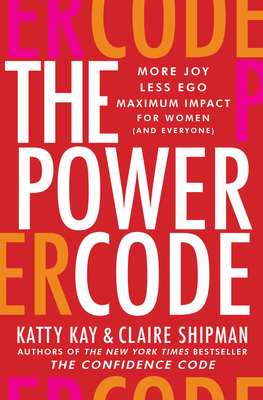 $32.00

We can order this book for you! This will delay shipping your book by 2 - 7 days.
Description
---
Power is not working—for women, for men, or for the world. We don't need to remake women. We need to remake power.
New York Times bestselling authors Katty Kay and Claire Shipman are on a mission to reclaim power for women. In the wake of sweeping changes in the way we work, the veteran journalists challenge pre­conceived notions of what power is and what it's good for, along with the insidious, mostly hidden structures of the status quo that hold women back.
What started as a straightforward examination of best practices has become a manifesto for a new form of power, a distinctly female version that is already emerging in workplaces, in politics, and on the home front. It's a version that is more appealing to women (and most men as well). It offers women a blueprint for shaping their own professional futures, maximizing their impact for the benefit of others, and experiencing the real joy that comes from taking the reins and influencing outcomes.
Writing from their own lived experiences, Kay and Shipman interviewed dozens of women of all ages, races, and backgrounds around the world, as well as cutting-edge academic researchers. Taken together, these per­spectives offer a clear-eyed and hopeful redesign of the workplace and our relationships at home, one that puts women in a remade and modernized seat of power.
And now is exactly the right moment for women to step into their power. What's at stake is much greater than the next job; it's about the need for a new vision of what power can be, for a new code that focuses not simply on hierarchy, on having power over others, but also on purpose, on what power can achieve.
Both a prescription for societal change and a pro-fessional guidebook for individual women, The Power Code shows you how to leverage the power you already have, find new sources of power in yourself and your community, and remodel your workplace and your home-life to produce less ego, more joy, and maximum impact.
About the Author
---
Katty Kay is the anchor of BBC World News America, based in Washington, DC. She is also a frequent contributor to Meet the Press and Morning Joe and a regular guest host for The Diane Rehm Show on NPR. She's the author, along with Claire Shipman, of two New York Times bestsellers, Womenomics: Work Less, Achieve More, Live Better and The Confidence Code: The Science and Art of Self-Assurance—What Women Should Know. In addition to her work on women's issues, Katty has covered the Clinton administration sex scandal, four presidential elections, and the wars in Kosovo, Afghanistan, and Iraq. She was at the Pentagon just twenty minutes after a hijacked plane flew into the building on 9/11—one of her most vivid journalistic memories is of interviewing soldiers still visibly shaking from the attack. Katty grew up all over the Middle East, where her father was posted as a British diplomat. She studied modern languages at Oxford and is a fluent French and Italian speaker with some "rusty Japanese." Katty juggles her journalism with raising four children with her husband, a consultant. Visit Katty online at www.theconfidencecode.com.
Claire Shipman is a journalist, author, and public speaker. She's the author, along with Katty Kay, of two New York Times bestsellers, Womenomics: Work Less, Achieve More, Live Better and The Confidence Code: The Science and Art of Self-Assurance—What Women Should Know. Before turning to writing, Claire spent almost three decades as an award-winning television journalist. For the last fourteen years, Claire was a regular contributor to Good Morning America and other national broadcasts for ABC News. Before that, she served as White House correspondent for NBC News, where she regularly reported on presidential policy and politics for NBC Nightly News and Today. Prior to that, she worked for CNN for a decade, covering the White House, and she was also posted in Moscow for five years, reporting on the fall of the Soviet Union. Claire's coverage from Moscow helped CNN earn a National Headliners Award and a coveted Peabody Award. She received a DuPont Award and an Emmy Award for coverage of the 1989 Tiananmen Square student uprising, as well as a DuPont Award for CNN's coverage of the 1995 Oklahoma City bombing. She graduated from Columbia College and later earned a master's degree from the School of International Affairs there. She's now a member of Columbia's board of trustees. She lives in Washington, DC, with her husband and their two children and three dogs. Visit Claire online at www.theconfidencecode.com.
Praise For…
---
"If you think power always corrupts, get ready to think again. Katty Kay and Claire Shipman have spent their careers observing power up close, and they've written an evidence-based, powerful, practical guide to acquiring it honestly and using it responsibly."  — ADAM GRANT, #1 New York Times bestselling author of Think Again and host of the podcast Re:Thinking
"Katty and Claire have done it again. This time they take on power—deconstructing it and revealing why so many women are turned off by it, even as the world needs more female leadership. They make the case that 'power' needs a rebrand—one better suited to the new workplace and that leverages women's strengths. This book is for every woman who wants to feel the joy of more authentic agency."  — MIKA BRZEZINSKI, cohost of Morning Joe and author of Know Your Value