The Hundred-Year Barn (Hardcover)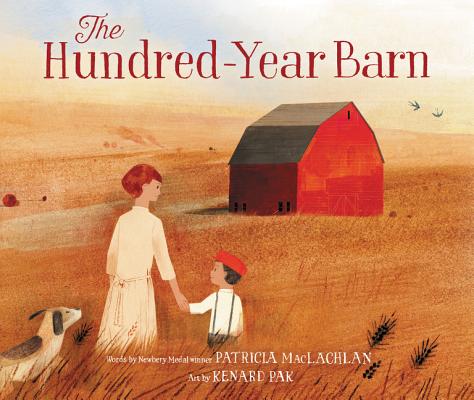 $19.99

We can order this book for you! This will delay shipping your book by 2 - 7 days.
Description
---
Newbery Medal-winning author Patricia MacLachlan's poignant text and award-winning artist Kenard Pak's gentle and rustic illustrations paint the picture of a beautiful red barn and the people who call it home.
One hundred years ago, a little boy watched his family and community come together to build a grand red barn. This barn become his refuge and home—a place to play with friends and farm animals alike.
As seasons passed, the barn weathered many storms. The boy left and returned a young man, to help on the farm and to care for the barn again. The barn has stood for one hundred years, and it will stand for a hundred more: a symbol of peace, stability, caring and community.
In this joyful celebration generations of family and their tender connection to the barn, Newbery Medal–winning author Patricia MacLachlan and award-winning artist Kenard Pak spin a tender and timeless story about the simple moments that make up a lifetime.
This beautiful picture book is perfect for young children who are curious about history and farm life.
* Bank Street College of Education Best Children's Book of the Year (2020) *

About the Author
---
Patricia MacLachlan (1938-2022) was the celebrated author of many timeless books for young readers, including Sarah, Plain and Tall, winner of the Newbery Medal. She was also the author of many beloved picture books, a number of which she cowrote with her daughter, Emily.
Kenard Pak is originally from Howard County, Maryland. He worked as a visual development artist for DreamWorks Animation, Disney Feature Animation, and Laika Studios before he began illustrating picture books, including Have You Heard the Nesting Bird?, The Dinner That Cooked Itself, The Fog, and Cat Wishes. He has also written and illustrated a seasonal series that began with Goodbye Summer, Hello Autumn. Kenard lives and works in lovely San Francisco with his wife and cats. You can visit his website at pandagun.com.
Praise For…
---
"In meditative prose, Newbery-winner MacLachlan commemorates the life of a great barn. MacLachlan and Pak invite readers into the rhythms of the small family farm and important moments, small and great, over a century of its life." — Publishers Weekly (starred review)
"This quiet tale captures the rhythm of rural life throughout seasons—and then over generations. MacLachlan weaves in an abundance of details that will appeal to children with no firsthand experience with farming. A cozy filter through which to imagine growing up." — Kirkus Reviews
"MacLachlan pays tribute to a symbol of the American farm. Watercolor, gouache, pencil, ink, and digital media in browns, tans, and cinnamon, enable the red of the cap and the barn to stand out. The solid building at the heart of the farm offers comfort and continuity in the life of a family." — Booklist
"MacLachlan's gift for portraying bucolic bliss returns. Fox, possum, cat, dog, and mouse each meander into the story with winsome expressions, adding to the serene mood. VERDICT This story's poetry and pace are mellow, ideal for a quiet time." — School Library Journal
Praise for CHICKEN TALK: "Krosoczka's expressive illustrations bring humor and tenderness to each character, human and chicken. MacLachlan's latest models an attentive, loving, and respectful relationship between humans and their animal companions that even those without articulate pets will appreciate. A sweet, silly...celebration of individuality and connection." — Kirkus Reviews
"Artwork by Krosoczka (Hey, Kiddo) uses softly sketched lines and gentle farmyard hues to provide a sense of the farm's peace and the chickens' cleverness. MacLachlan (My Father's Words) offers droll dialogue, a bucolic setting, and a spirited defense of animals as distinct beings with unacknowledged powers of observation." — Publishers Weekly
Praise for MY FATHER'S WORDS: "Newbery-medalist MacLachlan is known for writing heart-tugging stories in spare style, as she did in Sarah, Plain and Tall (1985). And that's what she does here as readers meet Fiona and Finn. Deeply moving and uplifting in unexpected ways." — ALA Booklist (starred review)
"Key relationships in her own life inspired this characteristically taut and resonant novel by Newbery Medalist MacLachlan. MacLachlan masterfully mingles core themes in this slim volume: the power of words and song, memories and family, the mutually redemptive human-canine bond, and 'the eternal fitness of things.'" — Publishers Weekly (starred review)
"With her customary precise, spare language, infused with emotional intelligence, MacLachlan takes readers from shocked grief to a way to live again, fundamental truths dropped carefully and delicately for young readers to comprehend in their own time. A flawless story about resilience, hope, healing, and the eternal fitness of things." — Kirkus Reviews (starred review)
Praise for THE POET'S DOG: "Magical. A quiet, elegant, poignant story suffused with humor, heart, and goodness." — Kirkus Reviews (starred review)
"A spare, moving tale. Using simple words that even youngest readers will understand and enjoy, MacLachlan tackles subjects such as death and mourning with understated grace." — Publishers Weekly (starred review)
"Readers will find their own jewel in this gem of a book."

— Booklist (starred review)
Praise for THE TRUTH OF ME: "Brief but emotionally intense...MacLachlan demonstrates her mastery of elegantly unfolding a tale and gently plucking at readers' heartstrings without taking a maudlin tone."
— Publishers Weekly (starred review)
Praise for KINDRED SOULS: "MacLachlan handles a familiar theme with grace, providing a lens into an uncanny intergenerational bond, as well as the kindness and generosity of love."


— Publishers Weekly (starred review)