This Will Be My Undoing: Living at the Intersection of Black, Female, and Feminist in (White) America (Paperback)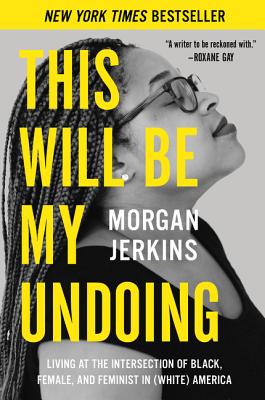 $15.99

We can order this book for you! This will delay shipping your book by 2 - 7 days.
February 2018 Indie Next List
---
"This book ravaged and then healed my weary soul. A micro and macro look at the exhaustion and triumph of black womanhood, Jerkins' essays are poignant enough on their own. When linked together in her book, the pieces become the subtle knife cutting through the membrane of gender and racial disparity that covers our country. Jerkins uses herself not simply as a reference point, but as a dissection, laid on the table and explained."
— Hannah Oliver Depp, WORD, Brooklyn, NY
Description
---
NEW YORK TIMES BESTSELLER
One of The Roots' 28 Brilliant Books by Black Authors in 2018
"A writer to be reckoned with." —Roxane Gay
Named one of the Most Anticipated Books of 2018 by Esquire, Elle, Vogue, Nylon, The Millions, Refinery29, the Huffington Post, Book Riot, Bitch Media, Electric Literature, The Rumpus, Vol 1. Brooklyn, and Paperback Paris.
From one of the fiercest critics writing today, Morgan Jerkins' highly-anticipated collection of linked essays interweaves her incisive commentary on pop culture, feminism, black history, misogyny, and racism with her own experiences to confront the very real challenges of being a black woman today—perfect for fans of Roxane Gay's Bad Feminist, Rebecca Solnit's Men Explain Things to Me, and Chimamanda Ngozie Adichie's We Should All Be Feminists.
Morgan Jerkins is only in her twenties, but she has already established herself as an insightful, brutally honest writer who isn't afraid of tackling tough, controversial subjects. In This Will Be My Undoing, she takes on perhaps one of the most provocative contemporary topics: What does it mean to "be"—to live as, to exist as—a black woman today? This is a book about black women, but it's necessary reading for all Americans.
Doubly disenfranchised by race and gender, often deprived of a place within the mostly white mainstream feminist movement, black women are objectified, silenced, and marginalized with devastating consequences, in ways both obvious and subtle, that are rarely acknowledged in our country's larger discussion about inequality. In This Will Be My Undoing, Jerkins becomes both narrator and subject to expose the social, cultural, and historical story of black female oppression that influences the black community as well as the white, male-dominated world at large.
Whether she's writing about Sailor Moon; Rachel Dolezal; the stigma of therapy; her complex relationship with her own physical body; the pain of dating when men say they don't "see color"; being a black visitor in Russia; the specter of "the fast-tailed girl" and the paradox of black female sexuality; or disabled black women in the context of the "Black Girl Magic" movement, Jerkins is compelling and revelatory.
About the Author
---
Morgan Jerkins is the author of Wandering in Strange Lands and the New York Times bestseller This Will Be My Undoing and a Senior Culture Editor at ESPN's The Undefeated. Jerkins is a visiting professor at Columbia University and a Forbes 30 Under 30 leader in media, and her short-form work has been featured in the New Yorker, the New York Times, the Atlantic, Rolling Stone, Elle, Esquire, and the Guardian, among many other outlets. She is based in Harlem. 
Praise For…
---
"Without turning linguistic or lyrical cartwheels, Jerkins lucidly articulates social dynamics that have dictated the realities of American black women for centuries…. Indeed, [This Will Be My Undoing] is a book I wish everyone in this country would read." — New York Times Book Review
"In Morgan Jerkins's remarkable debut essay collection, This Will Be My Undoing, she is a deft cartographer of black girlhood and womanhood. From one essay to the next, Jerkins weaves the personal with the public and political in compelling, challenging ways. Her prodigious intellect and curiosity are on full display throughout this outstanding collection. The last line of the book reads, 'You should've known I was coming,' and indeed, in this, too, Jerkins is prescient. With this collection, she shows us that she is unforgettably here, a writer to be reckoned with." — Roxane Gay
Morgan Jerkins is a star, a force, a blessing, a scholar and a critic, and now can add great American essayist to that list! I found myself sighing, nodding, gasping, laughing, and crying while reading this collection–but mostly cheering!  We can all sleep well at night knowing this country will inherit heart, mind, and soul like this. It's safe to say I've never read anyone this young–barely at quarter life!–who can understand herself, those around her, past and present, with such dignity and clarity and generosity. Intersectionality in America is dissected, investigated, celebrated and challenged all without being pedantic or preachy or pretentious. And Jerkins is the sort of benevolent intellectual you want to spend time with–who will never lie to you, but also will never let you lie to her. I've long known that feminism and arts and media owe so much to the excellent work of black women and This Will be My Undoing is yet another testament to that. — Porochista Khakpour, author of Sons & Other Flammable Objects, The Last Illusion, and Sick
"Each chapter provides insightful, personal, and frank analysis of how several identities can and do overlap with one another." — Library Journal Review
"There's a radical honesty and warmth in these essays, no matter the topic." — Alexander Chee, author of Edinburgh and Queen of the Night
"Threaded together by prose that is at once tender and disarming, Morgan Jerkins's debut collection is an invitation to conversation with a ferocious intellect and a singular, uncompromising voice. In essays that confront the forces of anti-blackness and misogyny, Jerkins demonstrates that being unflinching does not require that we be unmoved. Readers who encounter this debut will be hard-pressed not to have felt something shifted within themselves when they put it down." — Alana Massey, author of All the Lives I Want
"Jerkins is one of the smartest young writers of her generation, and this is an insightful, revelatory collection of personal essays about a variety of today's important issues. So fantastic." — Bookriot
"Jerkins' forthright examination of her own experiences leads to a triumphant reclaiming of blackness in all its power." — Booklist
"Jerkins's debut collection of essays forces readers to reckon with the humanity black women have consistently been denied. Her writing is personal, inviting, and fearless as she explores the racism and sexism black women face in America... [a] gorgeous and powerful collection." — Publishers Weekly (starred review)
"Jerkins has strong character, and This Will Be My Undoing is likely just the beginning of her influence on the role of black women in the United States. As she is careful to point out, she is just one voice and her story doesn't speak for all black women, but with any luck her one voice will inspire other voices to add to the chorus of change." — Shelf Awareness
"A beautiful example of possibility, nuance and passion coexisting, even in our heightened political moment…there is a brutal honesty Jerkins brings to the experiences of black girls and women that is vital for us to understand as we strive toward equality, toward believing women's voices and experiences, and toward repairing the broken systems that have long defined our country." — Los Angeles Times
"In This Will Be My Undoing, Jerkins confronts the real world and her own real life — including deeply private aspects of growing up black and female, confronting racism, sexism, her Christian upbringing, family secrets, and community fault lines." — Boston Globe
"Combining memoir and criticism, Jerkins's potent "mental fermentation" broods on black female oppression and the limits of racial equality in a society dominated by white people who have "fooled themselves into believing that they are unraced." — O, The Oprah Magazine
"The boldness of Jerkins' voice in This Will Be My Undoing is built on a raw honesty drawn from deep wells of shame and vulnerability.... That bareness makes This Will Be My Undoing a vital book, and one that stands out not only as a prominently political and personal work from a black female voice, but also as one of the first to emerge from [Jerkins's] generation." — San Francisco Chronicle
"The truth about a writer being anointed a Voice of the Generation is that it's also a curse… [but Morgan Jerkins'] exhilarating new essay collection This Will Be My Undoing makes her a leading contender for the title — and the writer most likely to rewrite the rules for it, too…If this collection is any indication, [Jerkins'] blueprint for a lifelong intellectual and creative enterprise will continue to challenge, thrill, and delight her readers throughout a long career." — Salon
"In her piercing debut essay collection… Jerkins is equally critical of the social structures in place to erase the black narrative and the pressures from within black communities to ensure that their daughters conform to white ideals—often through physical means, like the arduous process of hair straightening. She also doesn't shy away from exploring different experiences of blackness—or wrestling with the ways the black experience is unique from those of non-white women of color." — VICE
"In her debut release, Morgan Jerkins takes readers through life as a black woman on the street, in foreign countries, on dates, at the workplace, in the beauty parlor — everywhere, anywhere. An essential and vital read, This Will Be My Undoing is destined to become a classic essay collection on race and feminism." — Bustle
"In her first book of essays, Morgan Jerkins holds nothing back... [she] skillfully ties together personal experience with cultural critique.... [and] her voice is strong and clear." — Bust Magazine
"Jerkins takes the reader to deeply personal and, at times, uncomfortable places. She chronicles her struggles with dating and heartbreak, unflinchingly guides her reader through a personal surgical procedure and wrestles with a variety of different gazes: that of white men and white women, but also of potential lovers, of her host families and other people in Japan and Russia, of her black female peers and, most important, her own evolving view of herself." — The Root
"Beautifully crafted… what makes [Jerkins'] writing so powerful is her ability to point to precise moments that oppression was at work and unpack it for readers, who may not be black, female, or consider themselves feminists, but who will still understand the emotional impact that prejudice carries. Her personal experiences are political, but in ways that challenge previous feminist declarations about which experiences mattered and how to interpret them." — Signature Reads
"Jerkins examines pop culture, misogyny, black history and racism. She reflects on growing up in Atlantic and Gloucester counties and unravels what it means to be a black woman in today's society, seamlessly weaving the personal with the political in powerful essays such as 'A Lotus for Michelle.'" — New Jersey Monthly
"At its best, the book reveals complicated, messily human responses to knotty problems. Never intended as the final word on the black female experience in America today, it uncovers the effect of social forces on one perceptive young woman." — Kirkus Reviews