Bullied: What Every Parent, Teacher, and Kid Needs to Know About Ending the Cycle of Fear (Paperback)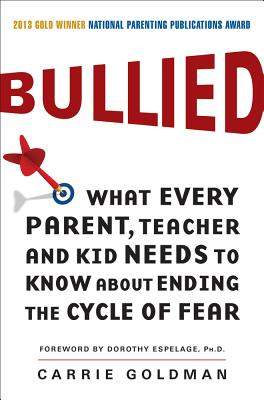 Description
---
The mother of a bullied first grader, popular blogger Carrie Goldman's inspiring true story triggered an outpouring of support from online communities around the world. In Bullied, she gives us a guide to the crucial lessons and actionable guidance she's learned about how to stop bullying before it starts. It is a book born from Goldman's post about the ridicule her daughter suffered for bringing a Star Wars thermos to school—a story that went viral on Facebook and Twitter before exploding everywhere, from CNN.com and Yahoo.com to sites all around the world. Written in Goldman's warm, engaging style, Bullied is an important and very necessary read for parents, educators, self-professed "Girl Geeks," or anyone who has ever felt victimized by a bully, online or in person.
Bullied has been recognized with Gold Awards at the 2013 National Parenting Publications Awards and the 2013 Mom's Choice Awards.
About the Author
---
Carrie Goldman is the author of Bullied: What Every Parent, Teacher, and Kid Needs to Know About Ending the Cycle of Fear (Harper Collins, August 2012). She writes the award-winning blog "Portrait of an Adoption" for ChicagoNow, the online community owned by the Chicago Tribune, where she tackles issues related to parenting, contemporary culture, and bullying.
Carrie also blogs regularly for Psychology Today and the Huffington Post, and her work on bullying prevention and general parenting expertise has been featured on NPR, MSNBC, CNN Headline News, cnn.com, HLN, WGNTV and radio, HuffPost Live, Daytime TV, Mondays with Marlo, babble.com, alternet.org, and many other media outlets.
Praise For…
---

"This is an important book on an important subject. We are glad to see such a broad and considered approach taken on the complex subject of bullying."
— Ben Cohen, MBE, Chairman, Ben Cohen StandUp Foundation

"Bullied is an excellent how-to guide for addressing bullying and creating a culture of acceptance and respect. I can't recommend this book enough to parents and educators."
— Trudy Ludwig, Children's Advocate & Best-selling Author of Confessions of a Former Bully

"Bullied is a captivating blend of stories, research and guidance. Goldman's odyssey as a blogger mom at the epicenter makes her a powerful voice for positive change. Her insights make this a comprehensive and indispensable bullying prevention resource."
— Judy S. Freedman, M.S.W., L.C.S.W., author of Easing the Teasing-Helping Your Child Cope with Name-Calling, Ridicule, and Verbal Bullying

"A well-researched guide to combating bullying…This book is a must-read for parents with children of any gender. Valuable support, resources and concrete actions for safely navigating the social wilderness of adolescence."
— Kirkus
"Carrie Goldman has written a compelling, well-organized book providing a depth of knowledge about a national crisis and deftly showing how people working together in schools and communities can eradicate bullying." — New York Journal of Books