You Learn by Living: Eleven Keys for a More Fulfilling Life (Paperback)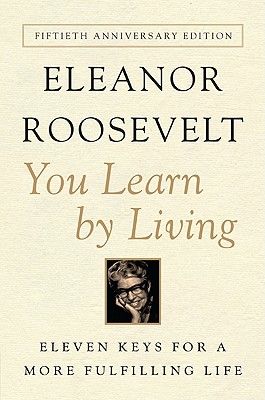 $15.99

We can order this book for you! This will delay shipping your book by 2 - 7 days.
Description
---
From one of the world's most celebrated and admired public figures, a wise and intimate book on how to get the most of out life.
Courage is more exhilarating than fear and in the long run it is easier. We do not have to become heroes overnight. Just a step at a time, meeting each new thing that comes up, seeing it is not as dreadful as it appeared, discovering we have the strength to stare it down.
One of the most beloved figures of the twentieth century, First Lady Eleanor Roosevelt remains a role model for a life well lived. At the age of seventy-six, Roosevelt penned this simple guide to living a fuller life—a powerful volume of enduring commonsense ideas and heartfelt values. Offering her own philosophy on living, she takes readers on a path to compassion, confidence, maturity, civic stewardship, and more. Her keys to a fulfilling life?
Learning to Learn • Fear—the Great Enemy • The Uses of Time • The Difficult Art of Maturity • Readjustment is Endless • Learning to Be Useful• The Right to Be an Individual • How to Get the Best Out of People •Facing Responsibility • How Everyone Can Take Part in Politics • Learning to Be a Public Servant
A crucial precursor to better-living guides like Mark Nepo's The Book of Awakening or Robert Pirsig's Zen and the Art of Motorcycle Maintenance, as well as political memoirs such as John F. Kennedy's Profiles in Courage, the First Lady's illuminating manual is a window into Eleanor Roosevelt herself and a trove of timeless wisdom that resonates in any era.
About the Author
---
Anna Eleanor Roosevelt was born in New York City on October 11, 1884. She married Franklin Delano Roosevelt on March 17, 1905, and was the mother of six children. She became First Lady on March 4, 1933, and went on to serve as Delegate to the United Nations General Assembly and Representative to the Commission on Human Rights under Harry S. Truman, and chairwoman of the Presidential Commission on the Status of Women under John F. Kennedy. She died on November 7, 1962, at the age of seventy-eight.