Fast Food Nation: The Dark Side of the All-American Meal (Paperback)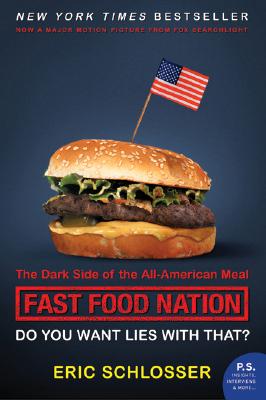 Special Order - Subject to availability
Description
---
To a degree both engrossing and alarming, the story of fast food is the story of postwar America. Though created by a handful of mavericks, the fast food industry has triggered the homogenization of our society. Fast food has hastened the malling of our landscape, widened the chasm between rich and poor, fueled an epidemic of obesity, and propelled the juggernaut of American cultural imperialism abroad. That's a lengthy list of charges, but Eric Schlosser makes them stick with an artful mix of first-rate reportage, wry wit, and careful reasoning.
Each day, one-quarter of the adults in the United States visit fast food restaurants, spending more than $110 billion dollars in the year 2000. Schlosser examines the franchise arrangement, with its curious blend of protection, paternalism and profit as adeptly as he delves into the specifics of what's in the beef. Also on Schlosser's hit list: the susceptibility of meat to dangerous pathogens such as e. coli; the slaughter of nearly 600 cows per hour (this American packinghouse standard, he reveals, is nearly 6 times the rate of European slaughterhouses); an in-depth look into serious nutritional, environmental, and cultural questions. "Fast Food Nation" is a groundbreaking work of investigation and cultural history that has changed the way America thinks about the way it eats.
"Fast Food Nation" the movie is slated to be released by Fox Searchlight on November 17, 2006. Starring Ethan Hawke, Avril Lavigne, Patricia Arquette, and Greg Kinnear.

Praise For…
---
"Superb and wonderfully horrifying...."
-San Francisco Gate