Coraline (Paperback)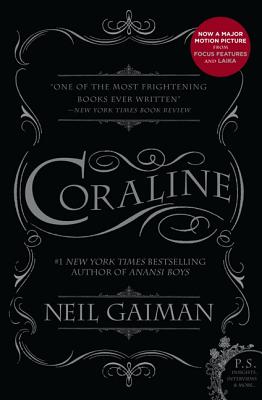 Description
---
In Coraline's family's new flat there's a locked door. On the other side is a brick wall—until Coraline unlocks the door . . . and finds a passage to another flat in another house just like her own.
Only different.
The food is better there. Books have pictures that writhe and crawl and shimmer. And there's another mother and father there who want Coraline to be their little girl. They want to change her and keep her with them. . . . Forever.
Coraline is an extraordinary fairy tale/nightmare from the uniquely skewed imagination of #1 New York Times bestselling author Neil Gaiman.
About the Author
---
Neil Gaiman is a #1 New York Times bestselling author of books for children and adults whose award-winning titles include Norse Mythology, American Gods, The Graveyard Book, Good Omens (with Terry Pratchett), Coraline, and The Sandman graphic novels. Neil Gaiman is a Goodwill Ambassador for UNHCR and Professor in the Arts at Bard College.
Praise For…
---
"Not since four English schoolchildren walked through a wardrobe and discovered the magical land of Narnia has the simple act of opening a door unlocked such a fantastic journey. And not since Alice tumbled down the rabbit hole has that journey been so splendidly strange and frightening . . . . You don't have to be a kid to appreciate the spell Gaiman casts in the suspenseful Coraline. Walk through the door and you'll believe in love, magic and the power of good over evil."
— USA Today

"This book tells a fascinating and disturbing story that frightened me nearly to death. Unless you want to find yourself hiding under your bed, with your thumb in your mouth, trembling with fear and making terrible noises, I suggest that you step very slowly away from this book and go find another source of amusement, such as investigating an unsolved crime or making a small animal out of yarn."
— Lemony Snicket

"Inventine, scay, thrilling, and finally affirmative."
— Washington Post Book World

"Rise to your feet and applaud: Coraline is the real thing."
— Philip Pullman, author of His Dark Materials

"This book will send a shiver down your spine, out through your shoes, and into a taxi to the airport. It has the delicate horror of the finest fairy tales, and it is a masterpiece."
— Terry Pratchett

"This book tells a fascinating and disturbing story that frightened me nearly to death."
— Lemony Snicket

"You don't have to be a kid to appreciate the spell Gaiman casts in the suspenseful Coraline. Walk through the door and you'll believe in love, magic and the power of good over evil."
— USA Today

"I think this book will nudge Alice in Wonderland out of its niche at last. It is the most splendidly original, weird, and frightening book I have read, and yet full of things children will love."
— Diana Wynne Jones

"A deliciously scary book. The magical elements are surprising and new, and the evil that she has to fight is disturbing in ways that matter."
— Orson Scott Card

"An electifyingly creepy tale likely to haunt young readers for many moons."
— Publishers Weekly (starred review)

"CORALINE may be Gaiman's most disciplined and fully controlled novel to date, and it may even end up as something of a classic."
— Locus

"Chilly, finely wrought prose, a truly weird setting,a nd a fable that taps into our most uncomfortable fears."
— Times Educational Supplement

"Rise to your feet and applaud: Coraline is the real thing."
— Philip Pullman, author of His Dark Materials